Buying handmade means buying something special. When one person, or a small team of talented people, are entirely responsible for a product and work on a project from initial idea, to sourcing materials, to handcrafting the product, right through to selling, shipping and customer service, they are able to ensure their values are upheld every step of the way. Whether it be a commitment to environmental sustainability, fair trade ingredients or incredibly high quality products, someone who has a hand in every part of the process finds it easy to achieve these goals. When you shop small, local or handmade, you are supporting these people and their devotion to the aspirations and ideals that many of us share.
Here are some of my favourite handmade items this year: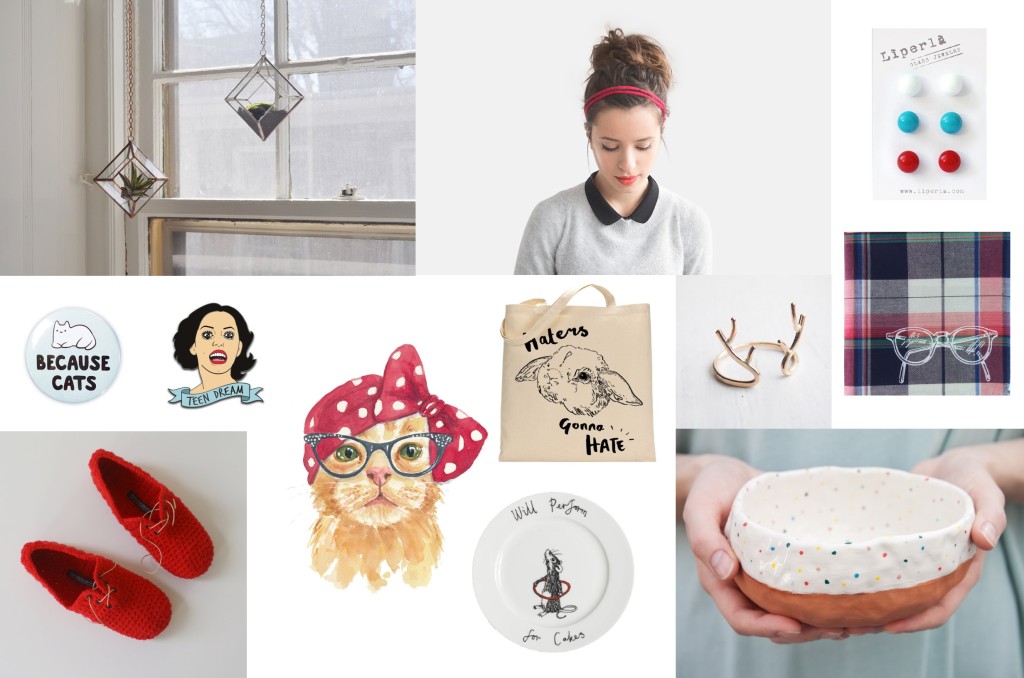 Zephyrus Terrarium by ABJ Glassworks (Pennsylvania, United States, $65.00)
Crochet Braided Headband by Plexida (Greece, $9.58)
Stud Earring Set by Liperla (Turin, Italy, $22.60)
Because Cats Pinback Button by Sparkle Collective (Toronto, Canada, $1.54)
Teen Dream Enamel Pin by Ludlow Luna (Pennsylvania, United States, $10.00)
"A Certain Glamour" Cat Watercolour Print by Water in My Paint (Canada, $7.70)
Haters Gonna Hate Bunny Tote Bag by Hello Harriet (Winchester, United Kingdom, $16.00)
Antler Ring by Autumn Equinox Jewelry (New Hampshire, United States, $32.00)
Sunday Plaid Eyeglasses Pocket Square by The Honey Press (Massachusetts, United States, $25.00 – 40% off with coupon code "CLOSING40")
Lace Up Slippers by White Noise Maker (Wellington, New Zealand, $29.00+ depending on size)
"Will Perform for Cakes" Side Plate by Jimbobart (London, United Kingdom, $35.00)
Terracotta Serving Bowl by Baskakova  (London, United Kingdom, $43.49)
All prices in USD. All photos via respective shops.