Alright, so not quite a year. I started this journey of writing one new macaron recipe per month in February of last year. At first, I just wanted to practice my macaron making and food photography skills but, somewhere around July's lavender macarons, I realized what I was really doing was building a series of recipes that I could turn into a proper collection (and maybe even a real cookbook) someday.
I love experimenting with unusual and unconventional seasonal flavours. Even though it can be hard to know how to work with a new flavour, or what to pair it with, especially when you are inventing as you go, I feel like I've made some really interesting and delicious macarons this year.
Looking back like this, I can really see how much I've learned and how much better I've become at making these tricky little pastries. I'm so looking forward to continuing this goal of one new recipe a month for another year. I have a few big ideas in mind and I'm really excited to see what I come up with!
February
Chili Macarons with Bitter Chocolate Ganache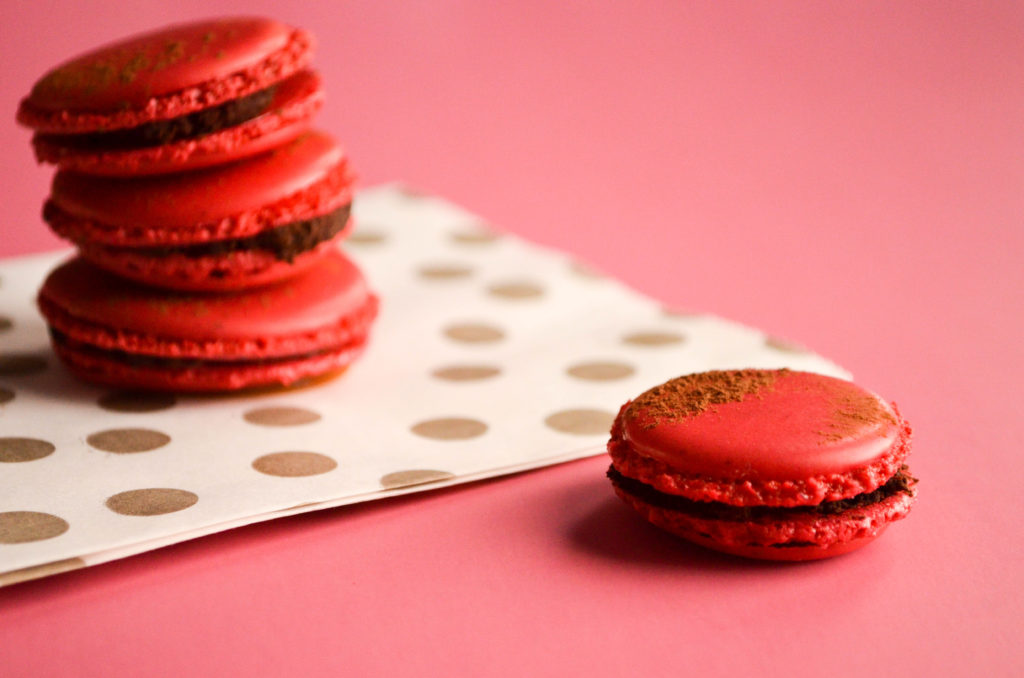 A spicy and earthy macaron for Valentine's Day.
March
Vanilla Macarons with Whiskey Buttercream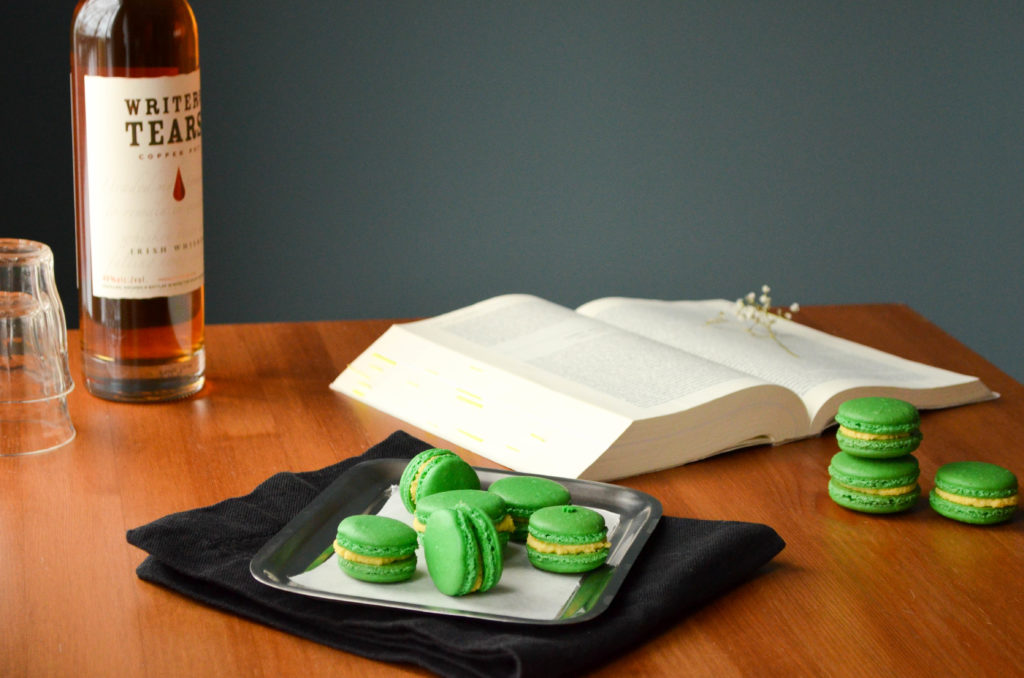 Skills have already taken a running leap forward as I really learn the importance of humidity. Festive green macarons for St. Patrick's Day.
April
Froot Loops Macarons with Froot Loops Buttercream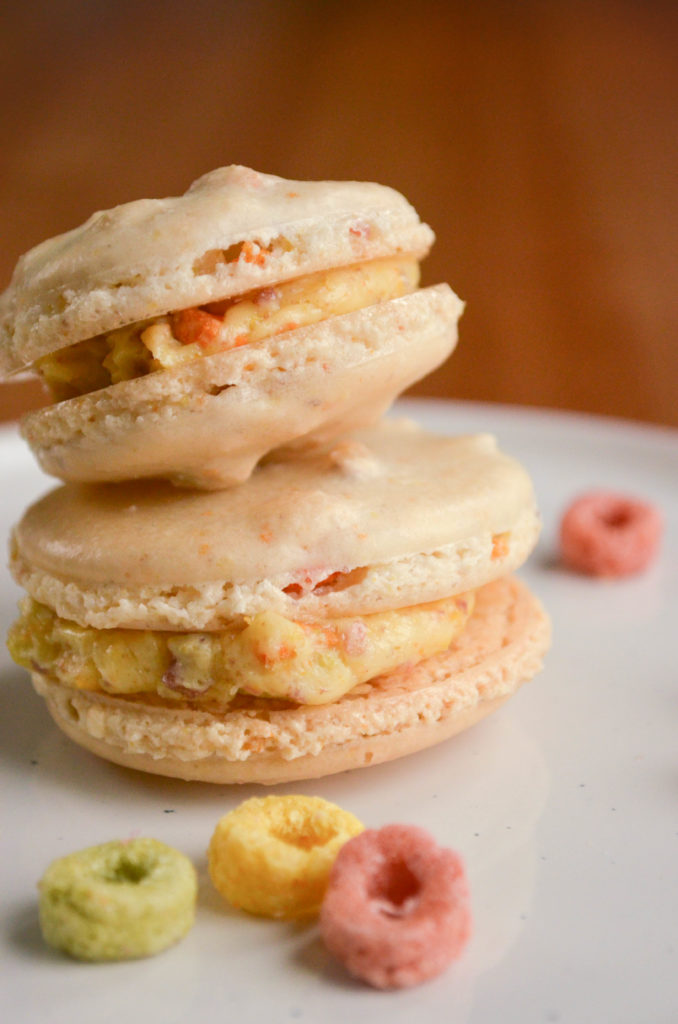 Something weird I had been wanting to try out for a while. It took a few tries to get the size and amount of crushed Froot Loops right, but I love the soft spring colours of this Easter time macaron.
May
Rhubarb Macarons with Rhubarb Pastry Cream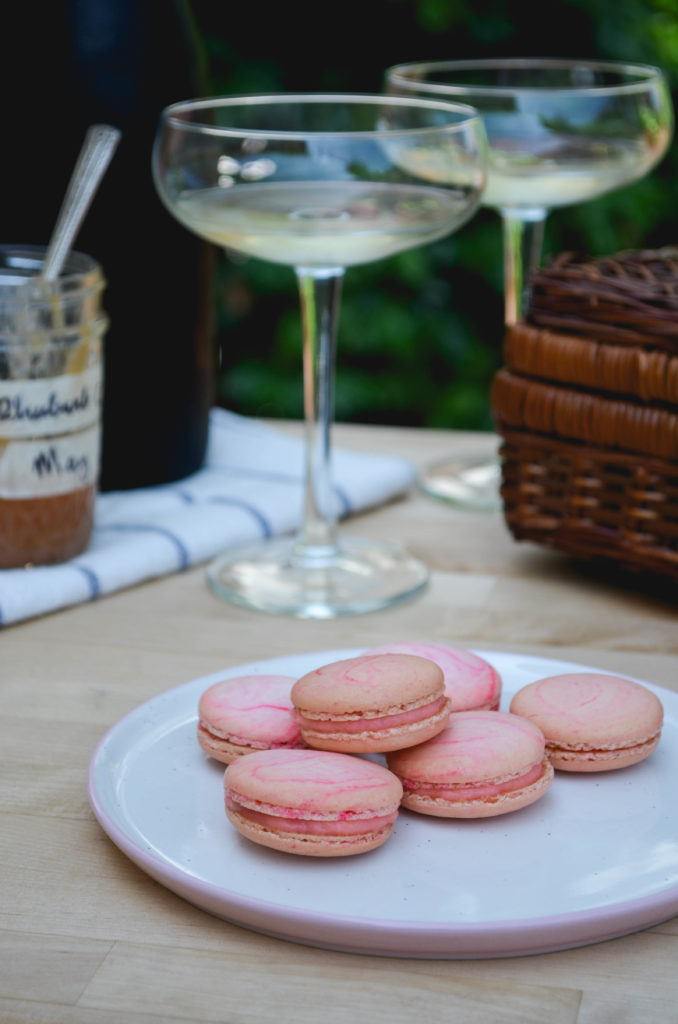 The first time I looked to my garden for inspiration. The summer humidity was arriving and I battled it for these thin shells with small feet. The rhubarb pastry cream was divine but made the cookies soggy after a few days. Definitely a recipe to assemble as needed or for a large party.
June
Matcha Macarons with White Chocolate Ganache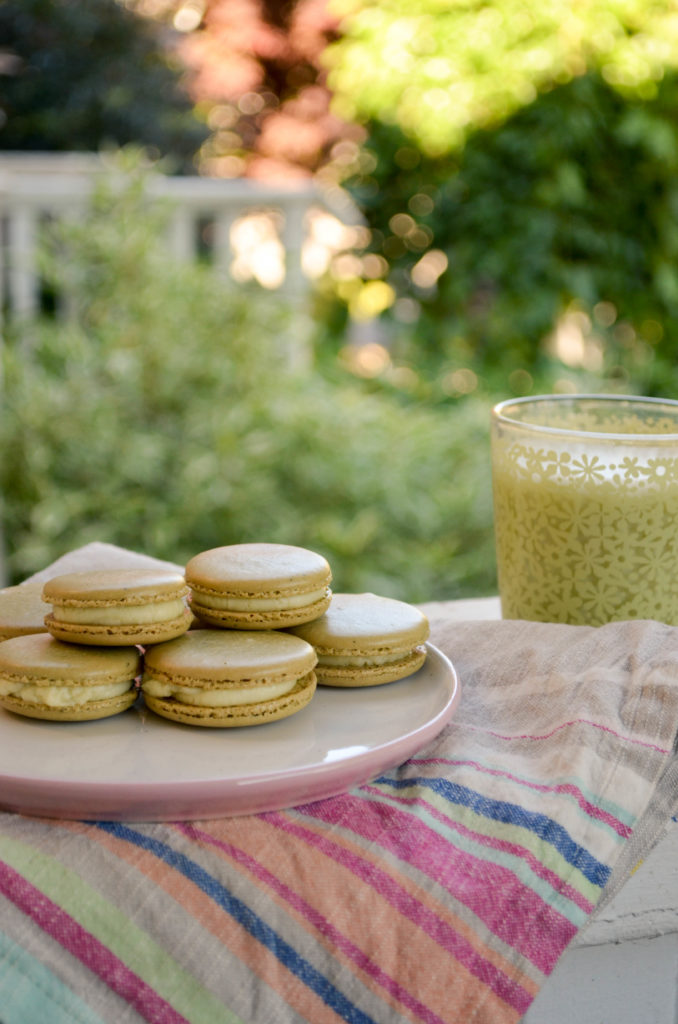 I became obsessed with matcha last summer and drank it almost everyday. I love flavouring things with tea so I am no stranger to the steep, but the fact that matcha is a powder made these one of the easiest flavouring I've ever worked with. No one told me white chocolate behaved nothing like regular chocolate, so that was a huge learning curve.
July
Lavender Macarons with Lavender Buttercream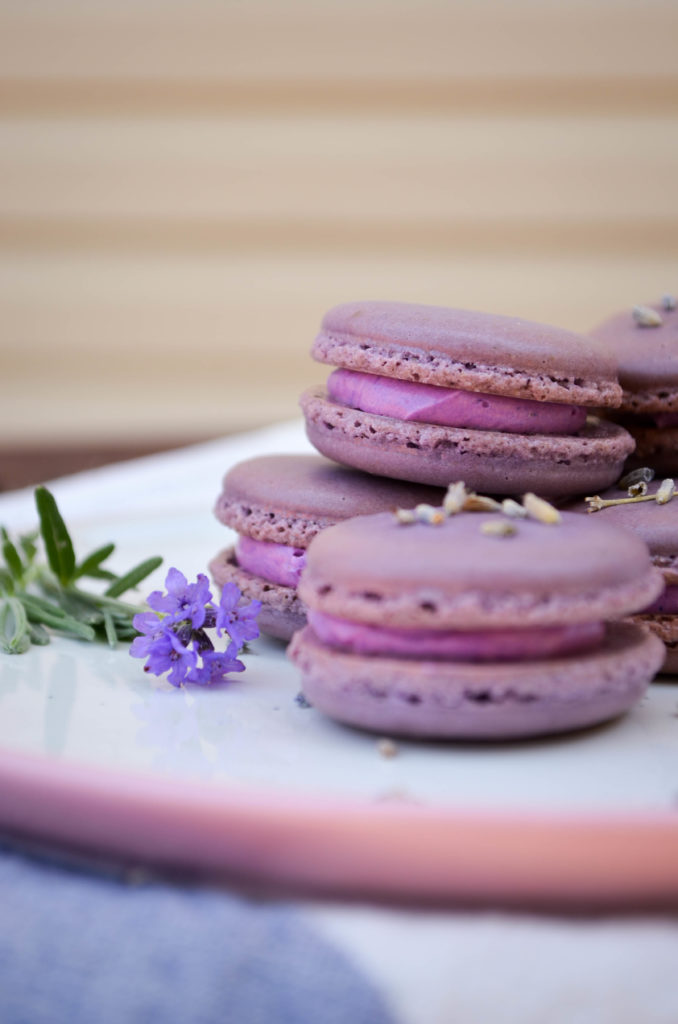 It was a busy month of summer travelling and markets. I was excitedly preparing for a market at a lavender farm and wanted all things lavender, all the time. The summer humidity made it impossible to make shells that didn't crack or otherwise form correctly in the oven. I had to make several batches of this flavour while I finally gave up on what was to be my "winter recipe" and develop a "summer recipe" that could dry in heavy humidity. I was eating ugly macarons for months.
August
Vanilla Macarons with Peach Buttercream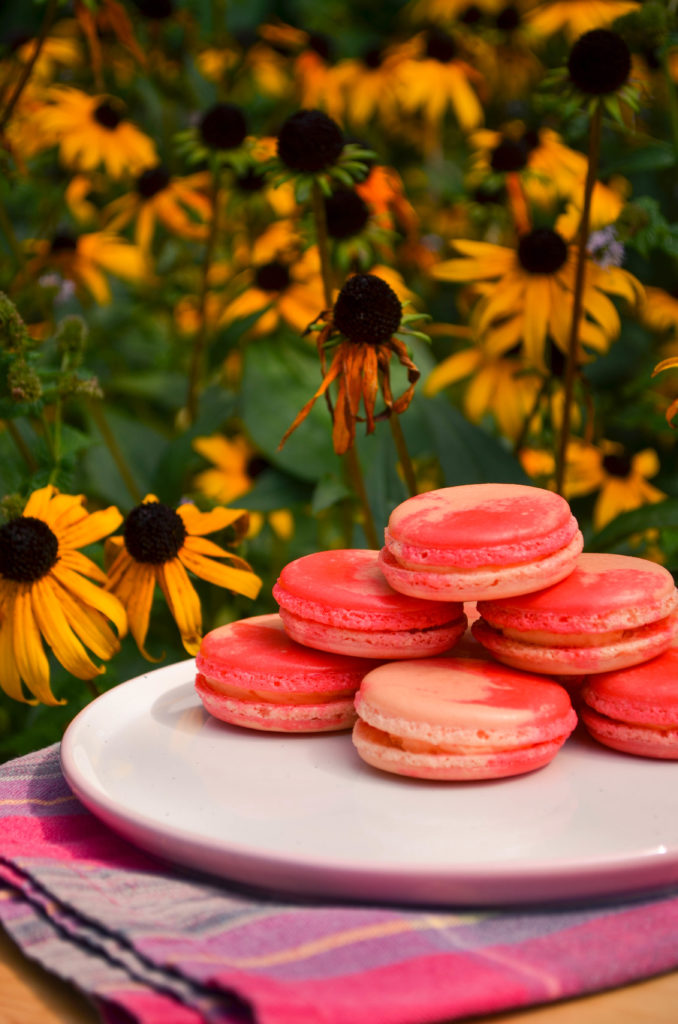 Having figured out the formula for stress free (ie crack-free) summer macarons, this is when I really got bold with colouring.
September
Chocolate Macarons with Cashew Butter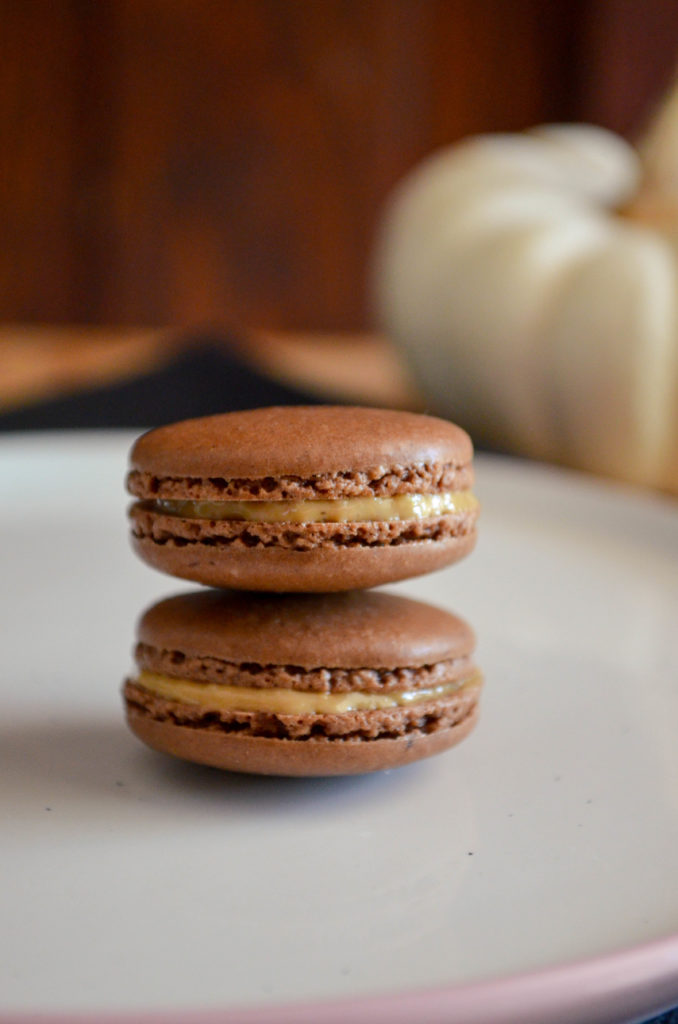 I was already thinking about Halloween when I made these more classically flavoured shells with a somewhat nontraditional filling.
October
Vanilla Macarons with Absinthe Buttercream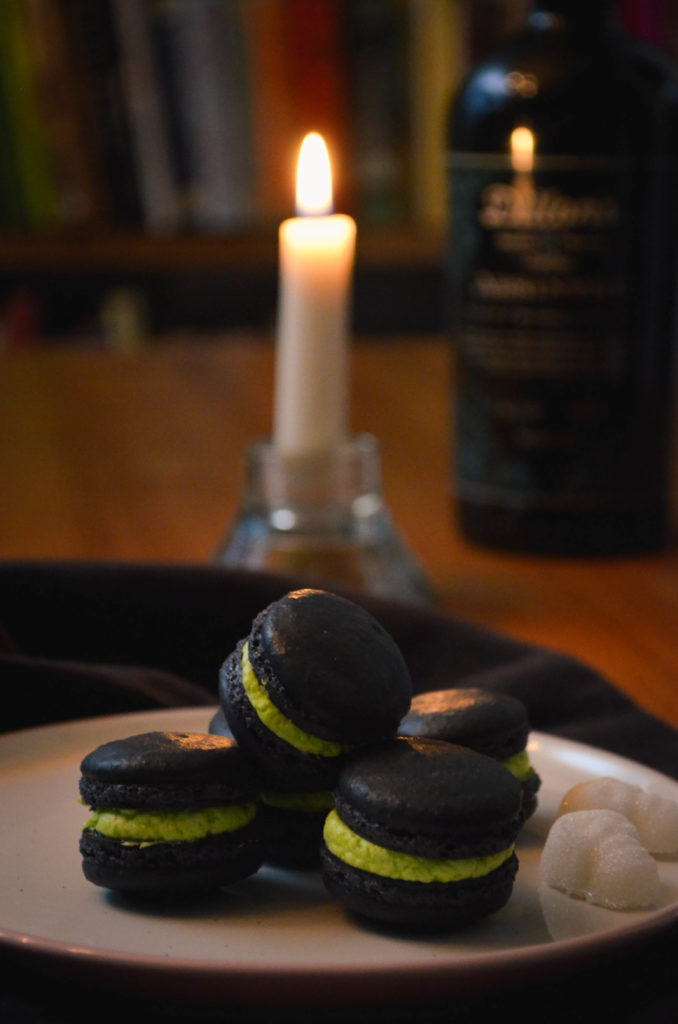 These Halloween themed macarons were the best I made all year, in terms of technique. They were high, crunchy on the outside, soft on the inside and had gorgeous feet. The absinthe buttercream had such classic, old-world flavours while also being incredibly exotic and difficult to pin down. The colours were fun to work with, too.
November
Peppermint Macarons with Peppermint Buttercream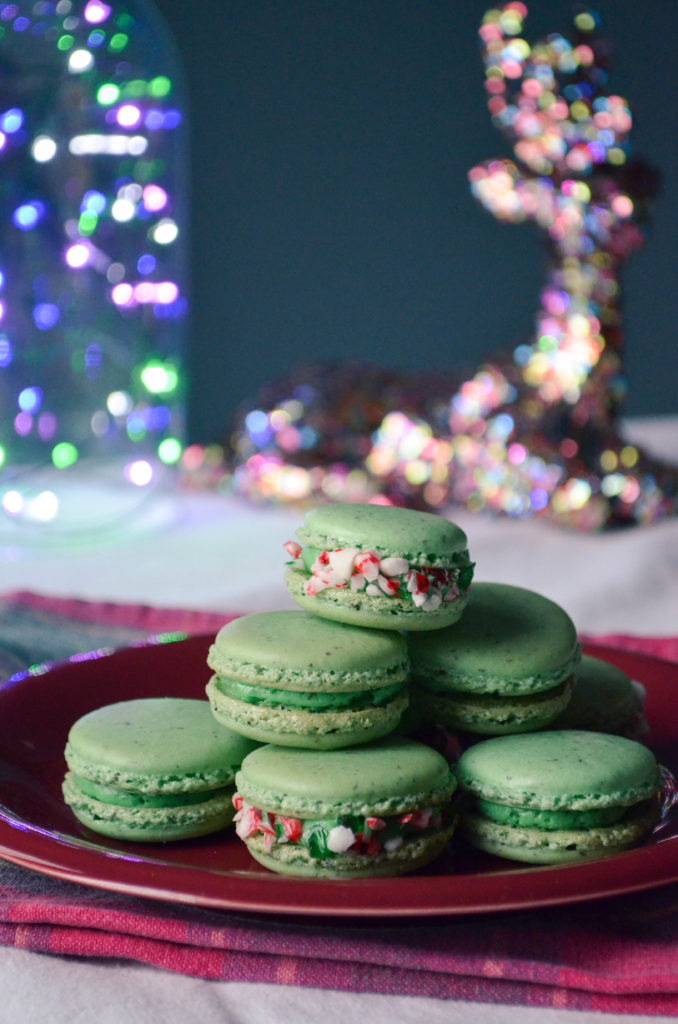 Poor November is so boring, it always gets overshadowed by Christmas. I couldn't help but break out my holiday ideas early. Using peppermint tea as a bit of a twist on a classic Christmastime flavour, these macaron were both traditional and distinctive.
December
Juniper Macarons with Juniper Buttercream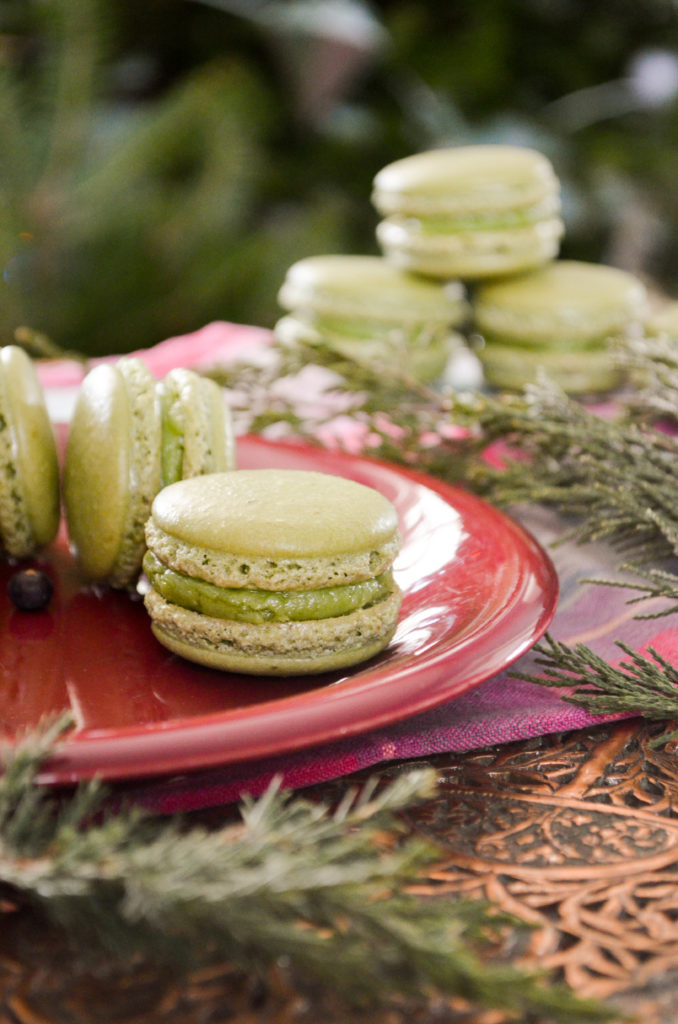 Finishing strong with something weird. The most delicious Christmas tree you've ever tasted.