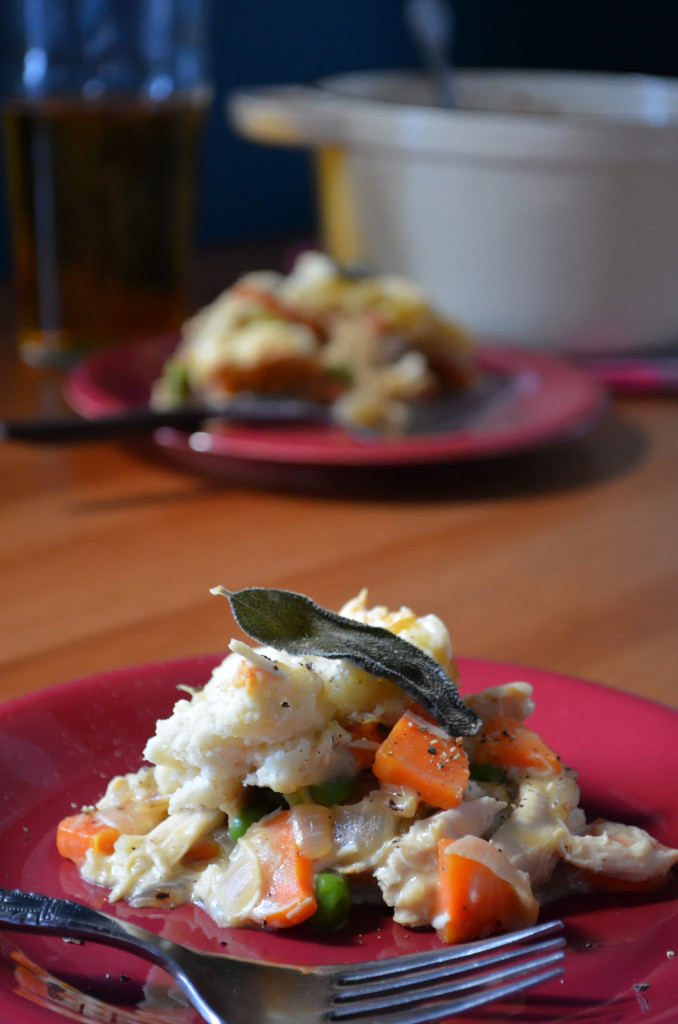 My favourite thing to make the day after a big roast dinner is chicken pot pie. It's a good way to use up leftover chicken, I have all the ingredients I need because I bought them for the dinner, and it's easier to make than it looks, once you get the hang of it, which can really impress friends and family around the holidays. Turkey can easily be substituted for chicken.
Recipe adapted from Joy of Cooking. 
Serves 4.
Ingredients
For the filling
2 cups leftover roast chicken
2 tbsp butter
¼ cup all-purpose flour
1 cup low sodium (or homemade) chicken broth or stock
3/4 cup whole milk
fresh lemon juice
salt and pepper
grated nutmeg
1 tbsp olive oil
½ medium onion, chopped
1½ medium carrots, sliced
1 celery rib, sliced
½ cup frozen peas, thawed
For the top
3/4 cup + 2 tbsp all-purpose flour
1 tsp baking powder
¼ tsp baking soda
¼ tsp salt
2 tbsp chilled butter
½ cup buttermilk
6 sage leaves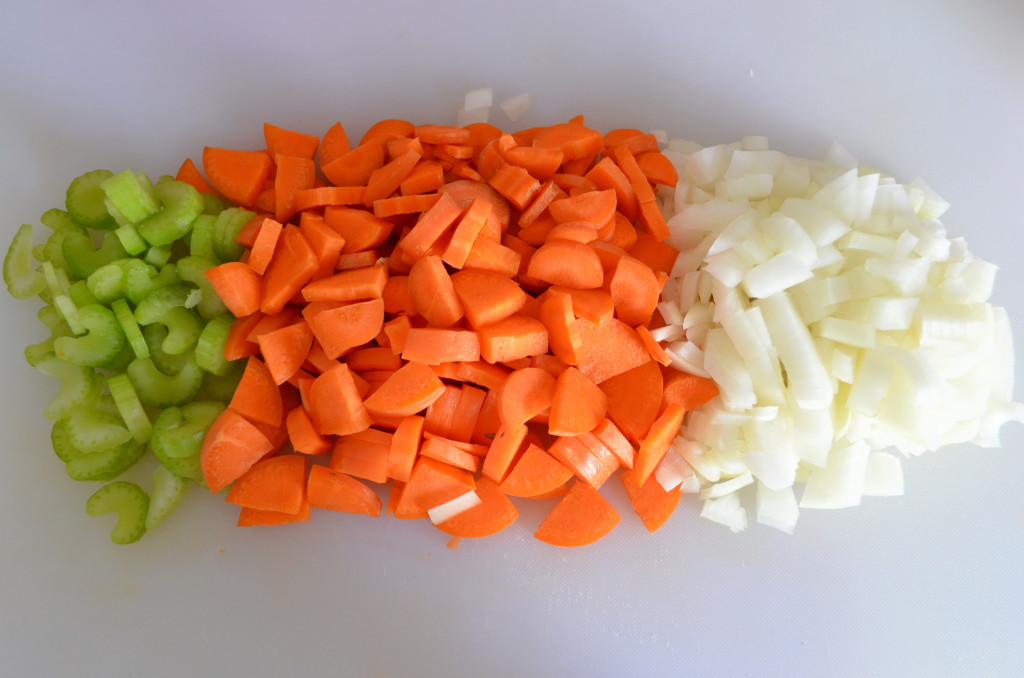 Method
Pull apart approximately 2 cups leftover roast chicken.
Melt butter in medium Dutch oven over medium-low heat.
Add flour and whisk until smooth, making a roux. Cook the roux for approximately 1 minute, whisking constantly.
Add chicken broth and whisk until smooth.
Whisk in milk and increase the heat to medium, whisking constantly.
When a simmer is reached, remove from the heat, scrape the sides of the pot and whisk vigorously to break up any lumps.
Return to the heat and cook at a simmer for 1 minute, whisking constantly. Stir in the chicken, bring to a simmer and cook for 1 minute more.
Remove from the heat and season to taste with lemon juice, salt, pepper and nutmeg. Set aside.
Position a rack in the upper third of the over and preheat to 400ºF.
Heat olive oil in a medium frying pan over medium-high heat.
Add onion, carrot and celery (mirepoix!). Cook for approximately 5 minutes, tossing often.
Stir cooked vegetables and peas into the prepared creamed chicken in the Dutch oven and pack down with a spoon or spatula.
Prepare the biscuit topping by sifting flour, baking powder, baking soda and salt into a medium mixing bowl.
Cut in chilled butter.
Make a well in the centre and pour in buttermilk. Stir until the dough just comes together.
Drop by walnut-sized pieces onto the top of the filling. Drizzle sage leaves with olive oil and stick them into the biscuit top.
Bake until the top is browned and the sauce is bubbling, approximately 30 minutes. Let cool 10 minutes before serving.