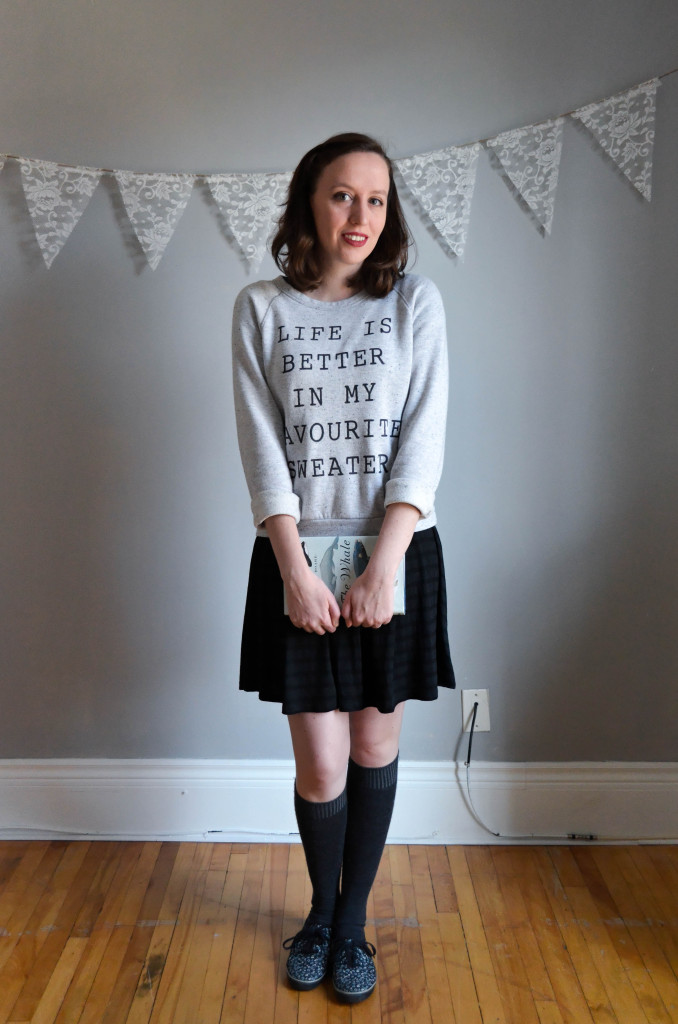 I have a love/hate relationship with jersey knit fabric. I love how dresses made with a stretchy jersey knit can look fitted and fancy while still feeling comfy and casual but I hate how the weight and stretch of the fabric can cause it to drape and hang oddly. I love how the simple, no zipper, no lining, serged hem construction of jersey dresses keeps the price lower but I hate how tedious it can be to repair serged sleeve hems on a standard sewing machine when the stitching inevitably rips or unravels. I love how packable jersey dresses are since they don't wrinkle easily but I hate how long jersey takes to dry if you get caught in the rain or caught up in a water gun fight. But most of all, I love how easily jersey dresses transition from lazy days to lively nights (and there's nothing bad to say about that).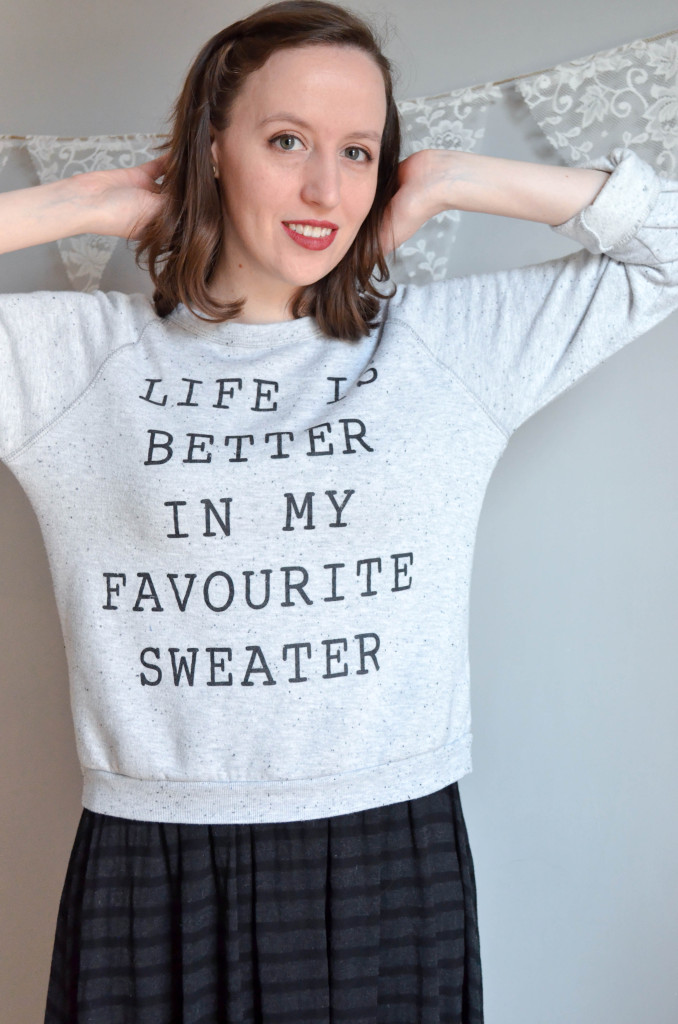 I wore this outfit a few Fridays ago, before the Christmas season started, on a day I had plans to meet friends for a potluck taco night after a day of working from home. I needed something that was comfortable to work in at the end of a long week but still charming enough for an evening at a friend's house. So it was wool knee socks, my favourite sweater and a jersey knit dress to the rescue – plus several large cups of tea.
I'm not one for dressing down, but I'm also not one for being trapped in a horribly uncomfortable outfit all day. Any outfit that has me longing for my pajamas isn't one I will soon wear again. Jersey dresses like this one are perfect for those days when the only way I can convince myself to part with my flannel sheets and fluffy down duvet is by promising myself that I won't have to put pants on once I do. I can throw this dress on and go out, safely maintaining my reputation for always being overdressed, always looking like I'm on my way to something special, without anyone knowing the truth about how cozy and casual I actually am that day.
Dress ModCloth
Sweater Bluenotes
Socks McGregor
Shoes Keds
Earrings Designs by Amber
I'm going to call this day to night outfit – that doesn't sacrifice style for comfort – a success because I received a compliment on my sweater every time I moved to a new room after first arriving at my friend's house. This is despite having worn this sweater several times with them before. Two friends even asked if it was new, even though I had worn it to breakfast almost every morning when we'd spent a week together at the cottage over the summer. I had lots of fun, only got a little hangry when the tacos were delayed, and felt great in my jersey dress all night.
All photos by me.