Adapted from Jamie Oliver's recipe from Jamie's Christmas with Bells On.
I love Mr. Oliver's way of throwing every leftover from a hearty roast dinner – even the gravy – into a big pot, adding stock, simmering, blending and calling it soup. I've made a few adjustment to his recipe to work in more leftovers and use more of the ingredients I typically have on hand after whipping up a roast dinner.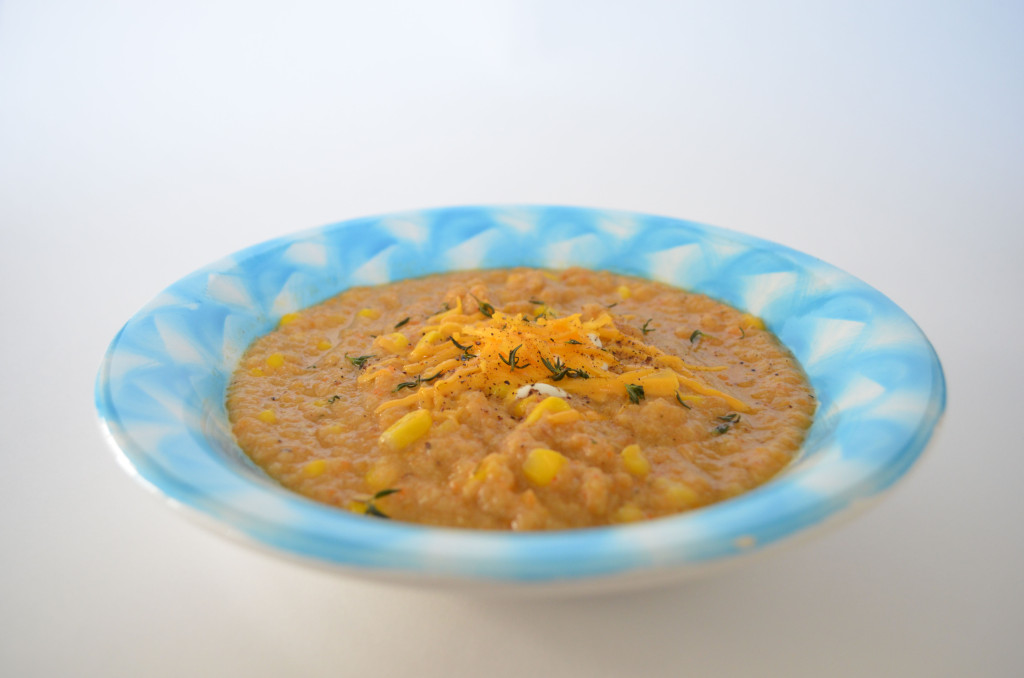 Ingredients
4 rashers bacon – sliced
2 tbsp olive oil
2 sprigs of thyme
2 onions – sliced
2 cloves of garlic – crushed
1 tsp smoked paprika
pinch of salt & pepper
200g leftover roast potatoes and vegetables – chopped
500g leftover turkey – chopped
50g  leftover Brussels sprouts – chopped
1 tbsp gravy
1 L chicken stock
2 cups corn
1/2 cup sour cream
1 tsp Sriracha
Garnish
Cheddar – grated
sour cream
pepper
thyme
1. Add olive oil to a heavy soup pot over medium heat. Cook off bacon.
2. Add thyme, onion, garlic, paprika, salt and pepper. Cook until onion is soft and jammy.
3. Chop up potatoes, veg, turkey and Brussels sprouts. Add with gravy and stock. Simmer for 10 – 15 minutes.
4. Blend until fine.
5. Add corn, sour cream and Sriracha. Simmer for 3 – 4 minutes. Season with more salt and pepper to taste.
6. Garnish with cheddar, sour cream, pepper and thyme.