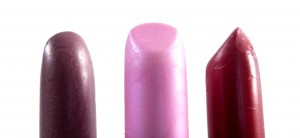 A couple of decades ago women didn't leave home without a generous application of lipstick, today many women my age do without it all together. Lipstick is iconic, just saying the word conjures images of glamour, power and romance. It's hard to picture a woman like Marilyn Monroe without her famous red lips. The 1950's are notorious for red lipstick, but they did not give birth to the trend.
The history of lipstick begins around the year 60BC with Cleopatra. She wore crushed Carmine Beetles on her lips while others used poisonous lipstick made from a plant called Fucus Algin and Bromine. By the medieval period the church banned the use of lipstick and it was only seen on prostitutes, but during the renaissance it made come back when Queen Elizabeth I wore red lipstick made from beeswax and plant dyes. Lipstick then returned to its previous neglected state in the 18th century when British Parliament passed a law dictating that wearing lipstick was grounds for being tried as a witch. When Queen Victoria took the thrown in the 19th century she took a strong stance against its use, saying it was impolite for a woman to wear lipstick. This is when women started to rebel ever so slightly.
Woman of high society were frustrated and desperate as their looks began to fade with age and they were not permitted to do anything about it. Some of these women would resort to using geranium or poppy petals to stain their lips. By the beginning of the 20th century women were going as far as tattooing their lips to get the lipstick look. Women really took back their right to wear lipstick in the 1920's with the flappers. They saw it as a symbol of their new-found power and independence.
Lipstick became commonplace in the 1930's, growing darker and more popular every year. By the next decade Hollywood movie heroines were shown wearing bright red lipstick, making it acceptable for everyone, though it was applied less liberally due to the constraints of the second World War. In the 1950's movies started being filmed in Technicolor and lipstick exploded in popularity.
By the 1960's red lipstick was getting a bad reputation, yet again, and so young girls were seen wearing shimmering pink and peach colours that were applied after first blotting out their lips with Pancake, a brand of cover-up that looks exactly as it sounds. It wasn't until the 1980's that lipstick colours were bright, deep and rich again.
Why is it that we twenty-something women don't wear lipstick today? It isn't dangerous or illegal or even frowned upon. It isn't a style issue; Hollywood is still putting lipstick on their actresses. Many of us wear lip-gloss, but hardly anybody is wearing lipstick anymore. Are we afraid? I know I was. But I couldn't fight the intrigue for the glamour, power and romance anymore, so I went out and purchased my very first tube of lipstick, with strong intent to wear it everyday.
Statistics show that many women are still purchasing lipstick; I guess we just feel silly wearing it on a daily basis. That is why I was nervous about finding the right colour. I need one colour that can be worn during the day, at night, to special occasions, when going out to get the mail, and everything in between. I had quite a daunting task ahead of myself.
I started my search, as many people do, on the Internet. I tried the six major cosmetic brands in Canada, CoverGirl, Revlon, Maybelline New York, Almay, Rimmel London and L'Oreal. Every one of them had a good website, with good information on their products but only two had what I was looking for, some sort of colour suggestion tool. CoverGirl's ColorMatch was the best, only because Almay's Product Recommender asks you for your preferred lip colour, and since I didn't have one yet, this tool was of no help to me. I wrote down the suggestions from CoverGirl, and feeling a little less intimidated, I went shopping.
I went to the same place I always go for my cosmetic purchasing needs, Shopper's Drugmart, a Canadian chain store similar to an American Walgreens. Unfortunately, for reasons unknown to me, this store did not have any of the products that CoverGirl had recommended; I was back at square one. One of the brands, L'Oreal, did have a small display with suggested lipstick colours based on your hair colour, but the selection was limited. As a woman with light brown hair, I had only one option and it was not even close to looking good on me. Almost every display was organized into neutrals, reds, pinks and plums, which did make things easier.
I decided to go with a colour that would be only a few shades off from my natural lip colour for my first time. I initially wanted to find a lipstick that was not shimmering but that quickly became impossible, as almost every lipstick is sparkly these days. I had just about every shade on the spectrum of pink to red drawn on my hand before I found a colour that I felt confident about putting on my face. The next step is very important – you need to locate some sanitizing spray to use on the tester lipstick before you try it on. I asked the woman working the area and she pulled some out of her drawer for me. I was somewhat socked when I tried the colour on and it actually looked right on me. I returned to the display to look through the rest of my options, but didn't come across another colour that I liked as much as the one I had tried on.
The lipstick I chose was Moisture Renewby Rimmel London in "Cherrylicious". I chose this specific lipstick not only based on the colour but also because I felt the product had the right specifications for me. This lipstick has a moisturizing aspect to it that I liked because I am perpetually applying Chap Stick and this is like a big girl Chap Stick. It is also SPF 18, which I was really excited about because my lips tend to burn fairly quickly in the summer sun.
I've been wearing the lipstick for a few days now and it is everything I wanted and expected, even the shimmering lustre of it is growing on me. It was a good experience all around.