At least once every summer, my husband and I invite all our friends, fill every square inch of our Volkswagen with food, beer and bathing suits and drive the five hours to our cottage. Being the hostess, it is up to me to come up with a menu for the week that is fun, simple, travels well, multiplies easily and is cost effective. This year we will have eight people staying for a full week, which made planning a menu a little difficult. Here is what I came up with:
 Day 1 (morning spent travelling to cottage)

Lunch

Hot dogs

Supper

Barbecue turkey breast with roasted potato and sweet potato and corn on the cob

Day 2

Breakfast

Lunch

Corn dogs and vichyssoise (pre-made at home and frozen)

Supper

Barbecue pizza with toppings leftover from other meals, including: sausage, green pepper, mushrooms, onion, potato, zucchini and bacon.

Day 3

Breakfast

Cold cereal

Lunch

Lunch-meat sandwiches

Supper

Hamburgers (pre-made at home and frozen) with cold salads

Day 4

Breakfast

Pancakes

Lunch

Macaroni and cheese

Supper

Sausage in a bun with Caesar salad

Day 5

Breakfast

Eggs and bacon with biscuits

Lunch

Leftovers

Supper

Lasagna (pre-made at home and frozen)

Day 6

Breakfast

Cold cereal

Lunch

Grilled cheese and tomato soup

Supper

Cottage pie (pre-made at home and frozen)

Day 7

Breakfast

Eggs and bacon with hash-brown patties

Lunch

Leftovers

Special Last Night Supper

Steak with twice baked potatoes and glazed carrots and parsnips

Day 8 (afternoon spent driving home)

Breakfast

Cold cereal

Lunch

Leftovers

 Snacks

Apples

Carrot sticks and dip

Spider dogs (wieners cooked over the camp fire)

Marshmallows

Chocolate and Graham crackers (for s'mores)

Chips

Candy

Desserts

Butterscotch chip cookies

Beverages

Lemonade

Fruit punch

Ginger beer

Coke

Crush 24can rainbow pack

Orange juice

Tea
To save money, I buy in bulk whenever possible, plan meals that use a lot of the same ingredients and make almost everything from scratch, mostly at home before the trip so I don't have to spend the whole week in the kitchen while my friends are out drinking beer in the sun. This menu is estimated to be between $35 and $40 (Canadian) per person for the week.
To avoid having a lot of uneaten food to bring home, I plan several lunches of leftovers to have things eaten up and to account for people who aren't hungry at meal times.
I also try plan a couple of days where all meals can be prepared inside, as a rain plan (days 5 and 6 on this menu). These meals do not have to be eaten specifically on days 5 and 6 but can be used for which ever days see rain.
When planning my menu, I keep food spoilage in mind, planning to first eat the things that will go bad first or will be harder to keep, turkey on day 1 and homemade pizza dough on day 2, for example.
Keep in mind that your darling friends are going to want to over indulge in alcohol during this trip and plan to bring lots of snacks and non-alcoholic beverages to help them from making fools of themselves, at least until after dark.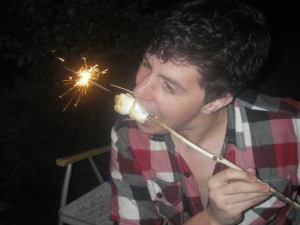 Before making your cottage menu, be sure to ask your friends if they have any allergies or special diet requirements.
Many people gain weight on holiday, you can prevent this by planning balanced meals with proper portions in accordance to Canada's Food Guide and by bringing healthy snacks along with the fun ones.