In this modern world of the internet and cell phones (yes I'm that old now), I haven't sent out a proper birthday party invitation since I was a child, spelling out 'who', 'what', 'when' and 'where' my party was to be on a piece of pink construction paper cut to the shape of a heart. This year, I decided to bring back the formal, paper invitation.
Not wanting to spend more than $10 total on stationery and postage, I searched the shelves of many discount department and office supply stores before I liberated this gem: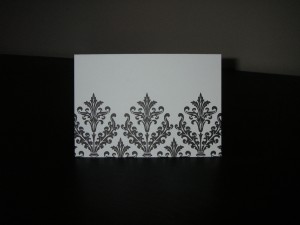 They were everything I was looking for: pretty, cheap and theme-less.
To answer those four W's in a more grown-up and sophisticated way, I consulted my turn of the previous century etiquette book. With the help of its long dead author, I crafted this wording:
The pleasure of your company is requested
on Saturday, February 18th
at eight o'clock, to celebrate the birthday of
Melissa A. Harrison
                                     123 Fake Street
R.S.V.P                                               
Since my style is a little more formal than average, I was caution to not over do it and confuse my guests as to the amount of formality expected on their part. I did this subtly by not writing out the date and time all fancy, as is my style and was my desire. For example, writing "at eight of the clock on Saturday, the eighteenth of February" my have falsely indicated a requirement for top hats and canes when, in reality, I will be pleased if my friends wear clean clothes without holes in them. I also avoided the new pleasure of writing "Mrs. Melissa A. Harrison", again to avoid an inappropriate air of formality. I also tried to aid my friends in their reading of my invitation by placing the address and R.S.V.P. request on separate lines so they would not feel that they must write back to adequately respond. However, much to my delight and giddiness, one friend did formally respond with a nice, gentleman-like letter.
I recommend sending all mailed invitations out three weeks before your event and hand delivering no later than two weeks in advance.