I may love lemonade to an unhealthy degree, especially on hot summer days. On a recent trip up to the cottage, I whipped up a recipe I had been thinking about since the first turned warm: Black Lemonade.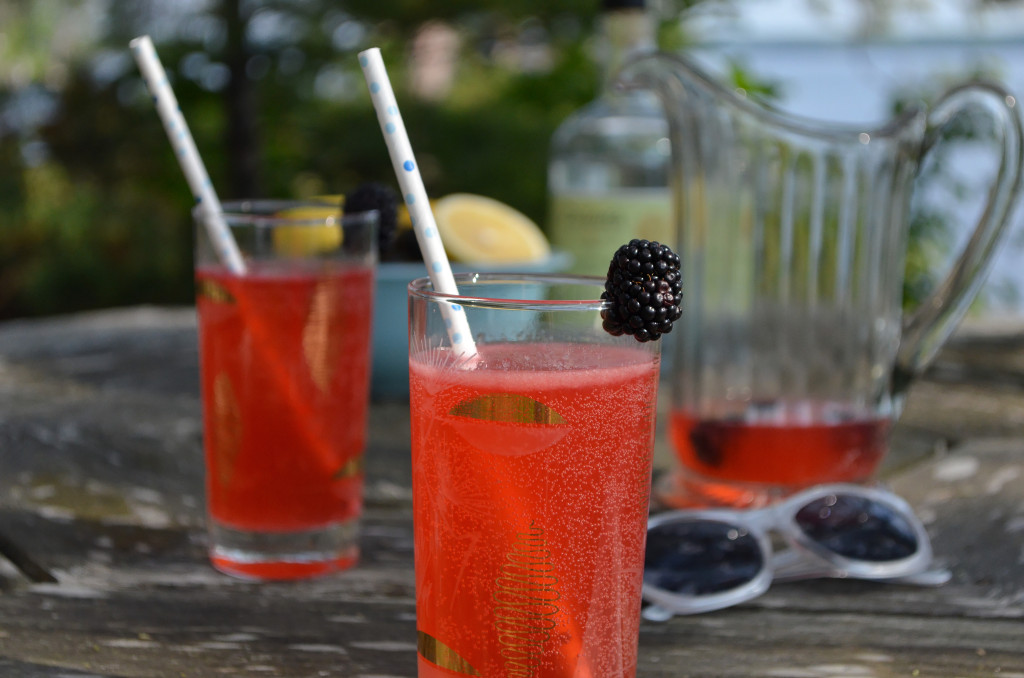 I've never really liked pink lemonade. Possibly due to the fact that during my first encounter with it, I got a mouthful of artificial "pink" flavours instead of the sweet and sour raspberries I had assumed to expect. I was so put off by this pink lemonade from a package that I thought I disliked all lemonade for an irrevocably long amount of time – somewhere in the 15 year range. But now I'm making up for lost time with this wonderfully refreshing, boozy blackberry lemonade recipe.
Ingredients
1 cup sugar
1 cup water
½ pint of blackberries
2 oz gin
juice of 1 lemon
sparkling water
Method
For the blackberry simple syrup
Add equal parts sugar and water to a small saucepan (use 1 cup for quite a lot of syrup) plus a ¼ pint of blackberries – the remainder will be used for garnish.
Bring the mixture to a simmer over low heat, stirring continuously.
When the sugar has melted, which may happen long before the simmer is reached, abuse the blackberries by (carefully) pressing them against the side of the pan with a wooden spoon or heatproof spatula until they've given up all their juice.
Then stir slowly and continuously (there's a reason chefs call this sort of thing liquid napalm) until the mixture has thickened to your liking.
Once thoroughly cooled, pour through a fine mesh sieve to remove the seeds and blackberry chunks before transferring to a squeeze bottle.
For the cocktail
Place a few ice cubes in the bottom of an old fashioned glass.
Add 2 oz gin (or vodka, if you prefer).
Add 1 oz of the blackberry simple syrup.
Squeeze the juice of 1 lemon into the glass, being careful to catch the seeds.
Stir and top up with sparkling water.
Garnish with a whole blackberry, if you want to be fancy, and serve.
I made this recipe to my lemon-loving taste for lemonade, which my husband describes as "this lemonade would be great if it weren't for the sugar", so don't be afraid to tweak the simple syrup, lemon and water ratios to make this cocktail your own.
Feeling saucy enough to make this for a group at your next backyard get together? Lucky you! It scales wonderfully to a pitcher recipe. Be sure to serve in a clear pitcher to let the gorgeous colour show through.
For a pitcher (serves 4)
Place a handful of ice cubes in a pitcher.
Add 8 oz gin.
Add 4 – 4½ oz simple syrup (I find a little extra sweetness is needed if the ice will have time to melt and dilute the beverage).
Squeeze, or ream, the juice of 4 lemons into the pitcher, being sure to catch the seeds.
Stir and top up with sparkling water, at least enough to match the amount of lemon juice.
Toss a few whole blackberries into the pitcher and serve.