It's been a summer of firsts. I bought my first maxi dress after years of not understanding why women reserve long dresses and skirts for the hot summer months. I became one of those people who owns more than one handbag and frequently switches between them depending on which better matches my outfit, for the first time. I started wearing my hair without bags for the fist time in about five years. I even bought my first summer hat, but it looked weird with this dress.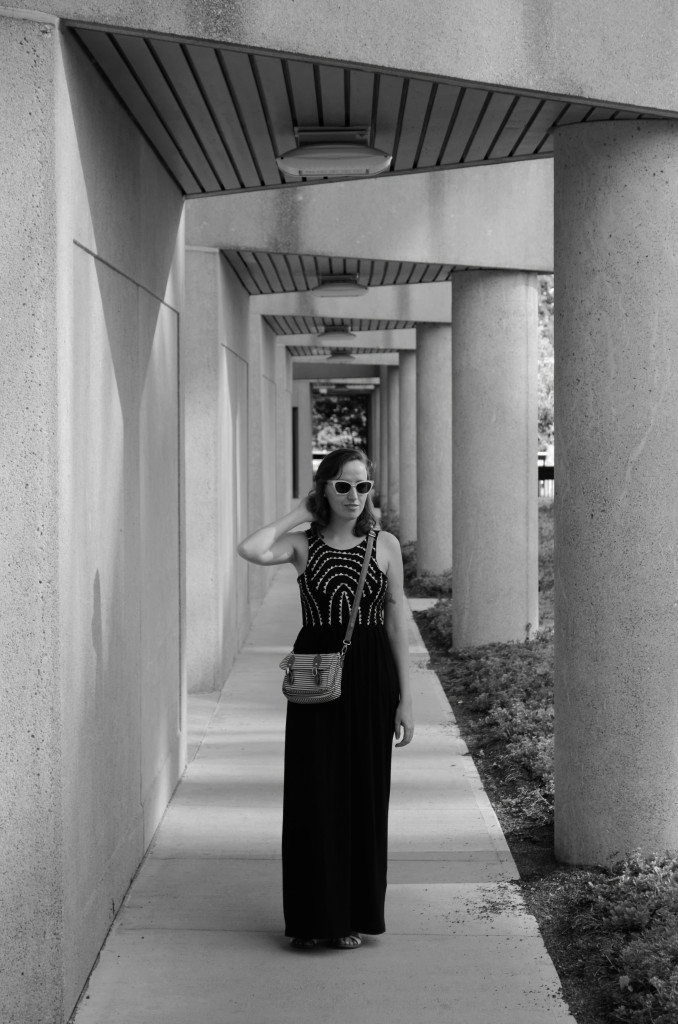 I didn't really know what to pair with this dress when I first got it. I tried it on with every pair of shoes I owned. Strappy shoes were clearly better than close-toed and heels worked better than flats, but still, nothing I owned seemed to look right. Neither of my two purses matched very well. That hat was a no-go. I have a pearl necklace that sat perfectly, neither too high nor too low on the neckline, but made the look much too formal for the poutine dinner I was on my way to pick up. Then, just as my hunger overcame my patience, I stopped trying so hard. That's when the look came together.
Dress ModCloth
Shoes ModCloth
Handbag ModCloth (old)
Sunglasses ModCloth
Earrings Claire's (old)
Maxi dresses had eluded me since college. I didn't know why the hemlines got lower as the sun rose higher. I still don't, really. Sure, it's fun to waltz around the house feeling fancier than I really am and the extra fabric did keep the hot sun off my legs but this isn't a Bedouin robe, there's no convection cooling going on under this thing. That being said, there's just something special about a maxi dress. Pulling it out again next year, after waiting all winter, is going to feel good.
Photo credit Matt Harrison