Growing up, I always hated winter. My brother and I really only got new clothing at back to school time. My mother, wanting to beat the rush, maintained a tradition of taking us shopping in mid-August, just before stores put all the fall and winter stuff out for the back to school crowd. She set an equal and very strict budget for my brother and I; enough to buy two or three high quality and much needed items… or about ten terrible, flimsy things that might just be enough to get us through the year. Obviously, I choose quantity over quality. I bought things that had been reduced in price more than once since they first arrived in the spring and summer seasons. Every year I brought home bags of tank tops, thin t-shirts, ankle socks, Capris, cropped sweat shirts and open-toed shoes… that I wasn't allowed to start wearing until September. This led to me shivered my way through the next five to six months of winter storms in a sliver of the province known as The Snow Belt.
Now that I've grown up and realized that I can literally buy warmth, I spend my money more wisely. I buy well made items that will last several winters, collecting them slowly, year by year. I buy wool, cotton and polyester for layering. I couldn't find a thick, long sleeve flannel shirt in the women's section, so I bought one from the men's. I buy winter dresses and skirts, knee socks, knit tights and thick stockings. I'm well on my way to owning a respectable range of cute and cozy sweaters. I'm starting to enjoy winter.
Yesterday evening, I layered up and the husband and I took a walk through the park.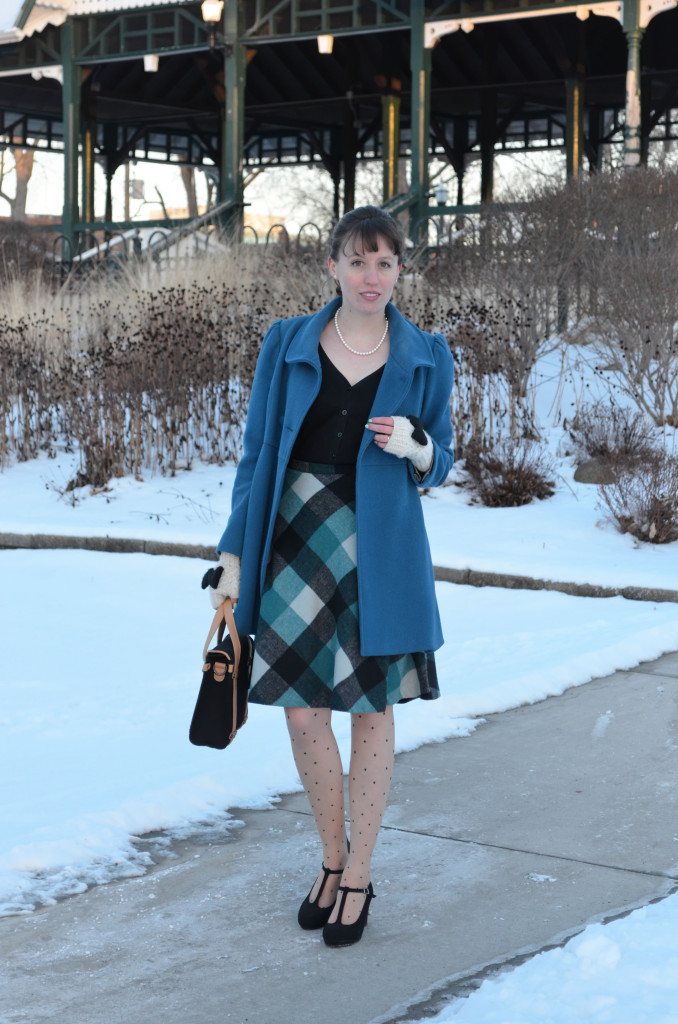 I moved to an area of the province with an opposing microclimate, -3°C in January is downright balmy to this Snow Belt expat.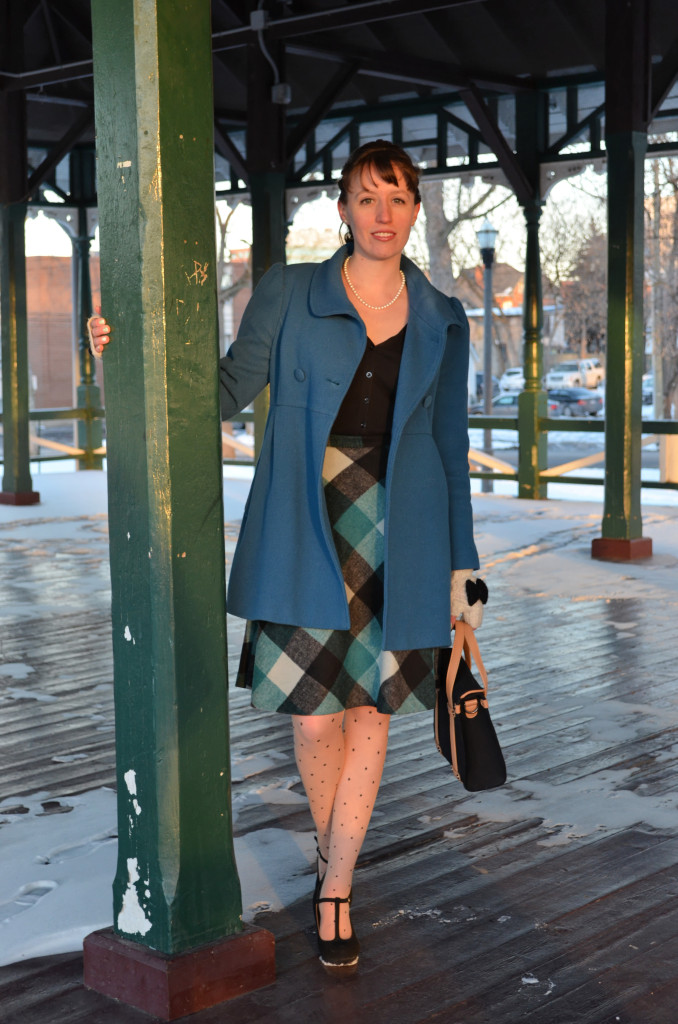 I wore cotton undergarments, a polyester slip, nylon stockings + garter belt, a cotton cardigan, a wool skirt and a wool/polyester blend coat. I like to layer with a mix of natural and synthetic fabrics in the winter. Natural fabrics like cotton and wool feel warm to the touch and are good for wicking away sweat to keep you dry, but they can also be quite permeable to body heat and cold wind, especially cotton. Polyester is light and doesn't breath, making it good for locking heat close to the skin.
Cardigan: H&M (old) // Skirt: ModCloth // Stockings: ModCloth //Shoes: ModCloth // Coat: Old Navy (old) // Gloves: ModCloth (old) // Bag: ModCloth // Jewellery: gifts // Hair Bow: Sophster-Toaster
Afterwards, we walked to the pub for a pint of oatmeal stout and some sweet potato fries with sriracha mayo to warm up. He let me double dip.