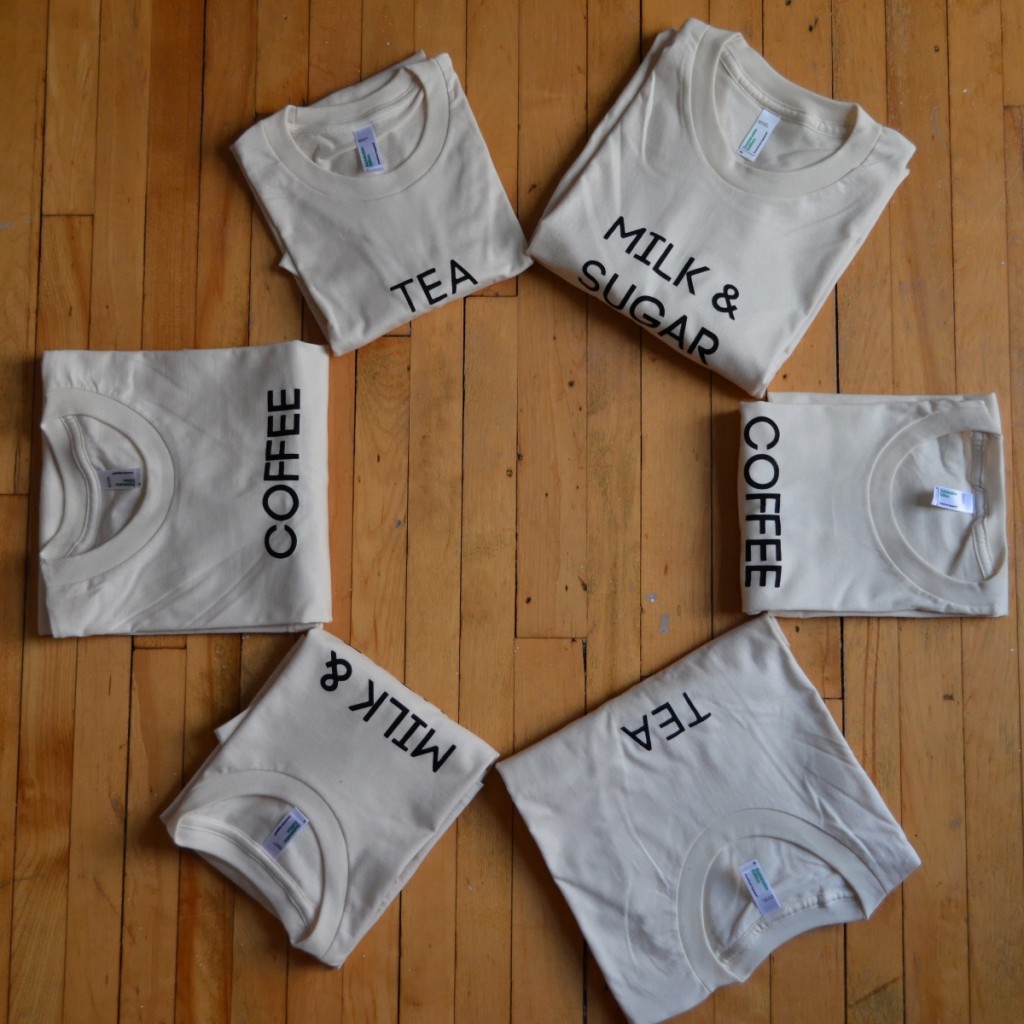 It started with a joke. A few months ago, while driving to the mall, I joked with my husband about how easy it would be to make and sell t-shirts. "All you'd have to do is choose a nice font, choose a good word like pizza, ice cream or cats, and slap it on a few t-shirts over the weekend," I said with an air of unearned confidence. Then something weird happened, I sat quietly for the rest of the ride.
Over the next few days, I couldn't get the idea out of my head. I thought about what kind of font I would choose, which t-shirt wholesalers I might use, dozens of words that I liked and plans for growth and expansion of my imaginary t-shirt line. After several days of not being able to shake the feeling that this might be a good idea, I decided I would go for it.
Over the Christmas season and into January, I learned the (somewhat difficult, actually) process of screen printing with a lot of help from my husband. I assumed things would go smoothly, his father used to teach the skill to prisoners before he retired and would often do pro bono print jobs at home for his church and social groups, but, of course, it didn't. I lost track of how many times my husband said something like, "hmm… I don't remember this part," or "he always did this part at work," as we fumbled our way through the first few unsuccessful attempts at making a usable screen. Somehow, through the difficult and frustrating process of learning a new skill, we had a lot of fun together.
I choose the first design set by bouncing ideas off my reluctant friends and relatives until they told me I was ruining Friendsgiving. Here are the winners:
Don't worry I have pages and pages of more ideas and I fully intend to ruin Easter as well.
The t-shirts are American Apparel's (sweatshop free) organic, sustainable edition, the ink is water based, everything we use from prep to clean-up is eco-friendly, and the hardware is even made in North America (or salvaged from my father-in-law's attic).
Finally, the bit you came here for…
I am holding a giveaway to celebrate the new winter t-shirt line! There are three prizes to be won: first prize is two t-shirts of your choice, second prize is one t-shirt of your choice and third prize is a $10 Etsy gift card.
The t-shirts are available from size small – extra large in women's and men's/unisex. (You can find more info about sizing in the shop.) Winners can choose any shirts in any sizes they like. Prizes will be shipped for free to any location in the world.
The giveaway ends at midnight on February 1st. Winners are chosen at random. Winners will be announced here, on Facebook and on Twitter, and contacted via email.
Good luck!