At the end of the month I will finally be moving from my small one bedroom apartment to a sprawling two bedroom in a converted 150 year old mansion, which, where I live, means an old Victorian house that is maybe the size of a new build, if you include its many additions. I am very excited for the new apartment; it has a few features that I am not accustomed to, like hallways, a pantry, proper kitchen ventilation, windows in every room, heat in the bathroom and a nearly formal front entrance-way.  But most importantly of all (for me at least) is that it has two bathrooms, which is a first for me, meaning that I only have enough items to decorate one bathroom. It gets even better, one of those bathrooms has navy tile in the shower that just beckons me to decorate it in a nautical theme.
I am a great lover of nautical style and I am glad to see that I am not alone. Great nautical finds are everywhere these days and, although deep down I fear that this is a tell-tale sign of it being a fad that will soon run its course, I could not be happier. Here are some of the things on my bathroom decorating wish list:
The soap dish that started it all.
It also has a matching shower curtain.
I also think this one is neat.
I will be convincing my husband that this bath mat is essential.
This tub stopper and floating soap dish are just adorable. Yes, two soap dishes fit into my scheme.
I love this shower caddy, even if it is a bit of a stretch to call it nautical.
This fabric for the curtains.
I like the idea of this bath rug, but at over $35, it's a little rich for my blood.
I will probably end up getting this bath rug instead. It isn't exactly nautical, but it matches the curtains nicely and could really pull the room together.
Guest towels, yes I require guest towels now, in navy and red.
Art to bring it all home. I hope to own at least one of these beautiful prints.
And to top it all off, this cute medicine box.
As you can see, this design is not complete, nor is it absolute. There are still a few things missing and not everything listed will fit into my budget but my hope is that the essentials will trickle in.
My biggest challenge in this design was finding things that work well together in a market with too many choices. I found that a good way to make a room seem comfortable, effortless and lived-in is to not be too strict with your decorating plan. Picking things that don't fit perfectly into the colour palate – like the curtains and the rug I have chosen above – but instead serve to complement it, is a good way to elude the trappings of a boring, matchy-matchy room. Another way to escape overdoing a room is to include things that don't fully fit with the theme, like the sparrow shower caddy above. Just because I have chosen to do a nautical theme, doesn't mean I have to buy $40 hand towels with navy trim and ugly sailboats stitched on to them, I can include sparrows if I like, because they remind me of traditional sailor tattoos. I also believe that the best way to keep a heavily themed bathroom from becoming tacky or contrived is to avoid those awful matching bathroom accessory ensembles. One-of-a-kind items, hand picked by you, win every time.
I really like the manatee print.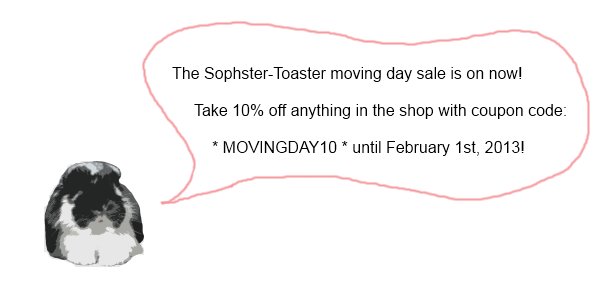 http://www.etsy.com/shop/SophsterToaster