Barbecue season is in full swing. This time, instead of going to the store to purchase the usual ready-made fixings, why not treat your friends and try these four easy recipes; I guarantee they will make for the tastiest, most memorable barbecue you've ever had.
Whole-Wheat Hamburger Buns
4 cups                                      Whole-wheat flour
1 ½ cups                                 All-purpose flour
½ tbsp.                                    Honey
1 ½ tbsp.                                 Sugar
1 ½ tsp.                                   Salt
2 cups                                      Warm water
2 ¼ tsp.                                   Instant yeast
4 tbsp.                                      Butter
Add yeast to water and let activate. Mix dry ingredients, holding back about a cup of whole-wheat flour. Add butter. Add honey and the water and yeast mixture. Mix with hands until a ball forms. Turn on to counter and knead for approximately five minutes, working in the reserve whole-wheat flour. Place in bowl lubricated with oil, covering dough ball in oil as well. Cover with a clean, dry tea towel and let rise until doubled in size. Punch down and spilt into golf ball sized balls. Roll between your hand and the counter until smooth and round. Apply pressure to flatten dough balls slightly and place on baking sheet lined with parchment paper about half an inch apart. Cover with a tea towel. Let rise until doubled in size again. Bake at 400ºF for 10 minutes. Turn down to 350ºF for 15-25 minutes. Cool off of sheet on cooling racks. Makes approximately a baker's dozen.
If you want to add something like sesame seeds, sprinkle them on top of the buns before the second rise.
Balsamic Mayonnaise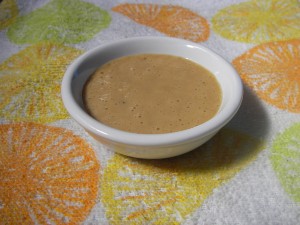 2                                     Egg yolks
½ cup                           Balsamic vinegar
1 tsp.                              Dijon mustard
1-2 drops                      Hot sauce (optional)
1 ½ cups                      Oil (any kind but olive oil – it will become bitter when beaten)
Whisk together first 4 ingredients until well combined. While whisking slowly, add a steady, controlled stream of oil to the vortex. Again, whisk until well combined. The balsamic vinegar will make the mayonnaise slightly darker than store bought mayonnaise. Add salt and pepper to taste.
Caramelized Onions
3-4                                 Medium yellow cooking onions
~ ½ cup                       Water
Cut the onions in a julienne style. Sweat them over low-medium heat, stirring occasionally. Add water if they dry out prematurely, a tablespoon at a time. This will take about 2 hours.
Homey Hamburgers
1 lb                                Lean ground beef
2                                     Bread ends, ripped small
1 clove                         Garlic, minced
Pinch                            Salt
1 tsp.                             Black pepper
½ tsp.                          Cayenne pepper
1 tbsp.                          Smoked paprika
1                                     Egg
Combine together with hands. Form patties ½ – ¾ inch thick with a four inch diameter. Yields approximately one dozen hamburger patties.