I've been peddling my wares for two years now! I've learned and changed so much since the day I stumbled forth and opened my shop without a clue as to what to do with my dresses once they left the sewing room. I feel like every day I learn some new sewing trick, photography technique or sales and marketing tip that I can use to improve my product and my shop, but overall, I think the most rewarding part of this journey has been all the great customers, fans, bloggers and fellow artisans I've met along the way.
Let's take a look at all the dresses I've designed this year:
Spring 2013: The Jailor's Daughter Dress. One of the first dresses to be offered as a made-to-order dress. It seems like such a simple concept now – buy more fabric and use a design more than once – but it took me almost a year to figure it out. This eye-catching dress is now one of my pop-up shop dresses that I wear when I work the booth at local markets and festivals.
Summer 2013: The Sarah Dress. A less-is-more type dress commissioned by, modelled by and named after my lovely friend Sarah (who has recently started contributing app reviews to the blog). We'll re-shoot it for better pictures some day, I promise.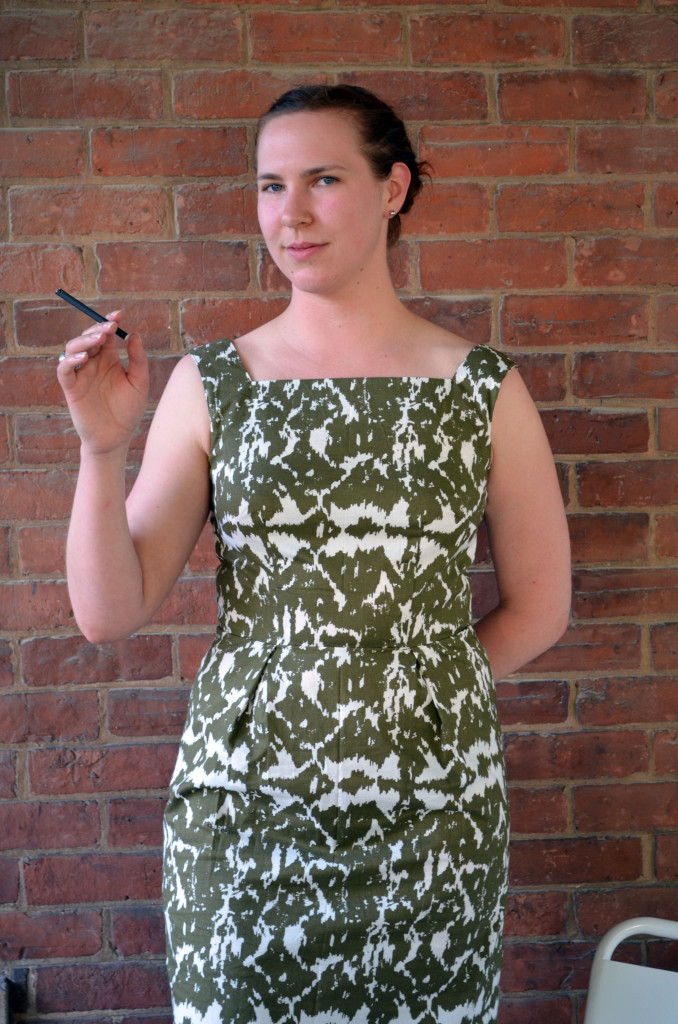 Summer 2013: The Milkshake Dress. Ah, The Milkshake Dress. This little number has been a fan favourite since it's first day. It's such a fun little design, so sweet and girly, I love taking it to market and seeing little girls' eyes' light up when they discover it on the rack and shoot me a little side-smile while their mother fiddles with an iphone. Perhaps I'll expand The Milkshake design into a line of children's dresses… it's one of the many ideas I've been toying with for year three.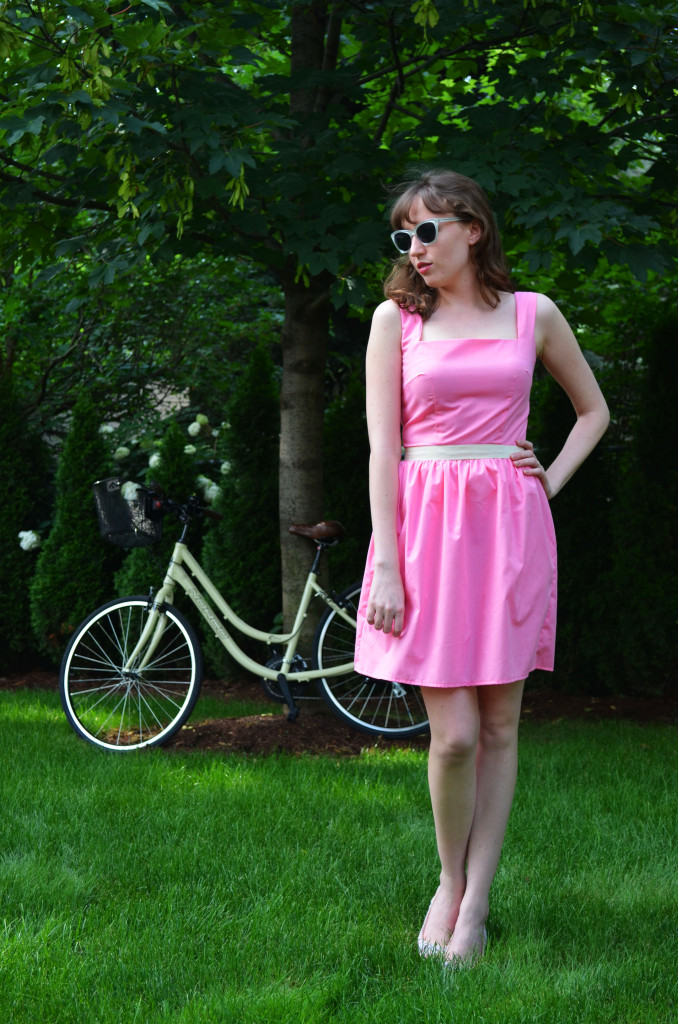 Autumn 2013: The Parlour Dress. This is when the husband and I really start to get a handle on this whole photography thing. The first made-to-order dress to completely sell out, I think it was my favourite.
Autumn 2013: The Cold War Dress. Design dresses for the correct season? What a novel idea. Breaking away from my local fabric store (there is only one, they have a terrifying monopoly on the industry), it was at this point that I started buying my fabric online and didn't have to wait for the ridiculously marked-up fabrics to go on sale at the end of the season. They don't recognize me there anymore, I've officially gone rogue.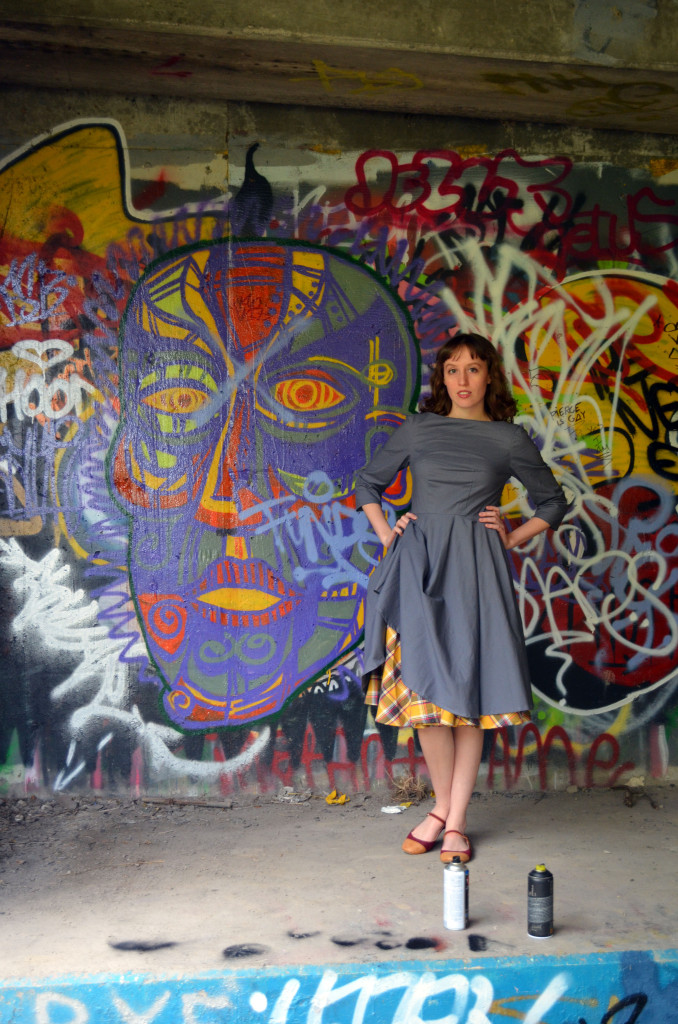 Winter 2013: The Bacon Dress. I've dipped my toes into novelty dresses before, but this one was my first solid jump.
Winter 2013: The Aurora Dress. One night I dreamt that I had made a series of Disney Princess inspired dresses. The thought stuck with me for several months until I gave in and watching Inception. The next day I started work on The Aurora Dress. I learned so much about design and my own creative process while making this dress. It went through several revisions, including one just before the hem went on that required starting back at the sketch.
Spring 2014: The Belle Jumper Dress. The Spring 2014 season marks the first time I actually sat down and planned out my entire season. The original design for this dress didn't include the white belt, you can thank Sarah for fixing that.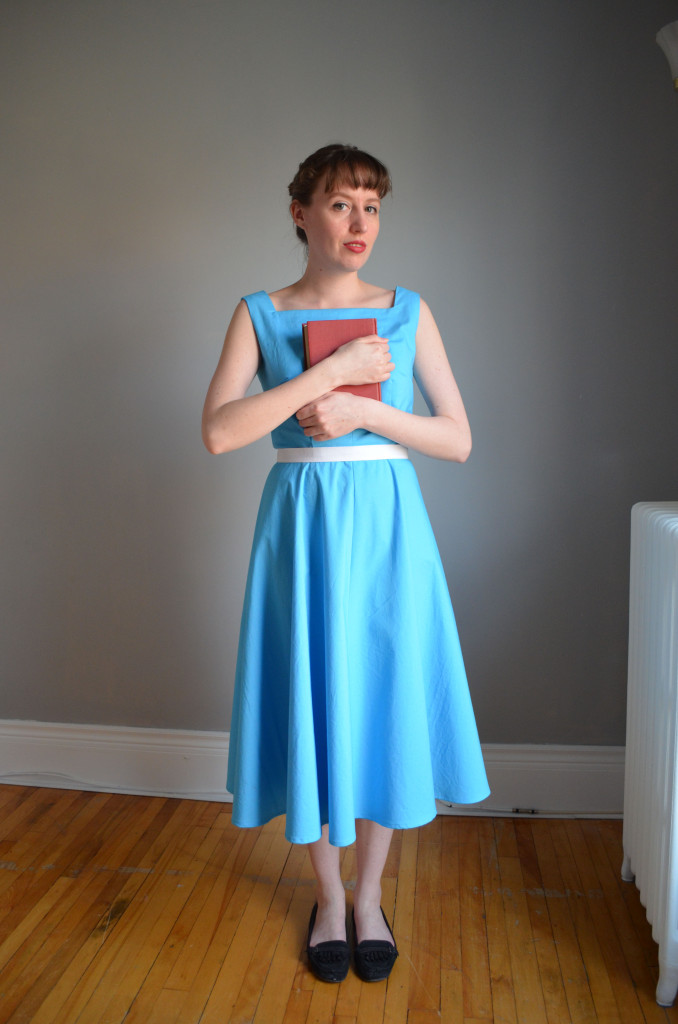 Spring 2014: The Milkshake Dress in Mint. Last month, I picked up a tip that said something along the lines of "more listings = more visibility". I'm not sure why I didn't think of it that way before, I swear I'm not an idiot, I guess I was just afraid of over-extending myself. This tip inspired me to break my listings that offer different options up into their own listings with their own unique photo story. First up, The Milkshake Dress.
Spring 2014: The Stitch in Time Dress. I found this amazing fabric around Christmastime last year and waited very patiently for the right time to make this dress. This is the first time I've tried reusing key elements from successful past designs. This dress is almost identical to The Parlour Dress, but somehow, seems quite different.
What's next?
Well I've got one more dress in the works for Spring 2014 then it's on to Summer 2014. It happened sort of by accident that every dress I planned for the Spring 2014 season was in a blue/green colour palate and it seems to be happening again for Summer. The two dresses I can't get out of my mind for next season are a crimson and creamsicle citrus print and an orange, neon and nude polka dot.
As I've grow as a seamstress, designer and human-person this year, I've noticed that the prices in my shop have taken a vigorous hike out of the reasonable range for most people. To remedy this, I'll be striving to produce items in a wider range of prices and offer binary price points within a single design every season from here on out. For example, the new Stitch in Time Dress was launched in tandem with The Stitch in Time Hair Bow Set and the citrus print dress I'm currently planning will (hopefully) be available as a skirt as well.