Last week, I was inspired to step up my packaging game. I read an article written by a former UPS employee detailing why some packages arrive damaged or get lost in the mail system. One tip they offered was to make your packaging pretty or unique to give the handler reason to treat it just a little bit better than the thousands of others being tossed about. Taking this tip to heart, I designed a simple logo and commissioned a custom stamp from the amazing Meagan Lewis at Brown Pigeon, it was finished on Friday and is currently in the mail. This week's goal is to source some eco-friendly boxes to brand and decorate with the new logo stamp, instead of using recycled boxes that have lost their charm. I also hope to use the new stamp on the Kraft paper bubble envelopes I've recently switched to.
Speaking of Black Friday, I'll be spending this week gearing up for the Sophster-Toaster Black Friday Sale. This year I am offering a coupon code that will give you 20% off anything in the shop from 6am (EST) on November 29th – midnight (EST) on December 2nd! When you use this coupon code, you will also be making a donation of 10% of the original price to The Fiver Trust Fund, which helps disabled rescue rabbits get the care they need to be happy and healthy again. The coupon code will be released on November 28th on the Sophster-Toaster Facebook page, as well as, the NEW Sophster-Toaster Google+ page.
On Friday I made a Google+ page for the blog and the shop! This week I will be working on getting it ship shape and adding a link to the page with the new blog design because…
I'm redesigning the blog! This time instead of selecting a cute template from the free section of the WordPress Themes Directory, I'm designing a completely unique template and having my husband code it for me in exchange for unlimited Dr. Pepper and a month's worth of dishes duty. I hope to have it up and running by the beginning of December.
This new blog design will also come with unobtrusive ad space for other reputable bloggers, businesses, brands and the like. There will be room for three ads at the right-hand side of the page. Only barter style payments will be accepted.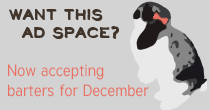 Finally, we come to the dresses. This week I'm working on The Bacon Dress! I've ordered the fabric and it's being printed as we speak. While I wait for it to arrive, I'm hammering out the final design details and planning my branding, styling and marketing strategy. The Bacon Dress will be available in sizes XS – 2X in petite, regular and tall. It will come with the option of in-seam pockets to be added for an additional $5 as well as the option to have the dress made sleeveless, with short-sleeves, or with 3/4 length sleeves (fees yet to be determined). The dress will have a white Peter Pan collar and come with a white sash style belt. I'm hoping the dress will come out between $60 and $80.