I never know what to wear to a pool party. Nobody really had pools in the neighbourhood where I grew up so I never saw my parents spending time with other adults around a quiet backyard swimming pool. For me, pool time was put your bathing suit on, ride your bike to the community pool, splash around with the other children and dry off on the bike ride home. There was no prolonged lounging poolside with your nice clothes on. Even the adults were already in their swimsuits, soaking up the unknown danger in a world where sunbathing was still a wholesome pastime.
Movies, television and pictures aren't much help either, everyone is already in their bathing suit to some degree by the time they hit the backyard. The only examples I can think of are modern movies where, for some reason, everyone at the rooftop party seems to be completely unaware of the presence of the big, lit up pool in the middle of the floor until someone inevitable falls / jumps in. These people aren't dressed for a pool party, they're dressed for cocktails.
So how does one dress for beer and burgers with a little splashing in between? Well, I usually go for a toned-down garden party look, some light, fit-and-flare, knee length number that I can easily change in and out of – but that didn't seam right for a casual, after work, Friday evening thing. So instead, I decided on something I rarely wear outside of the house: shorts. The result is a cute day to night nautical look.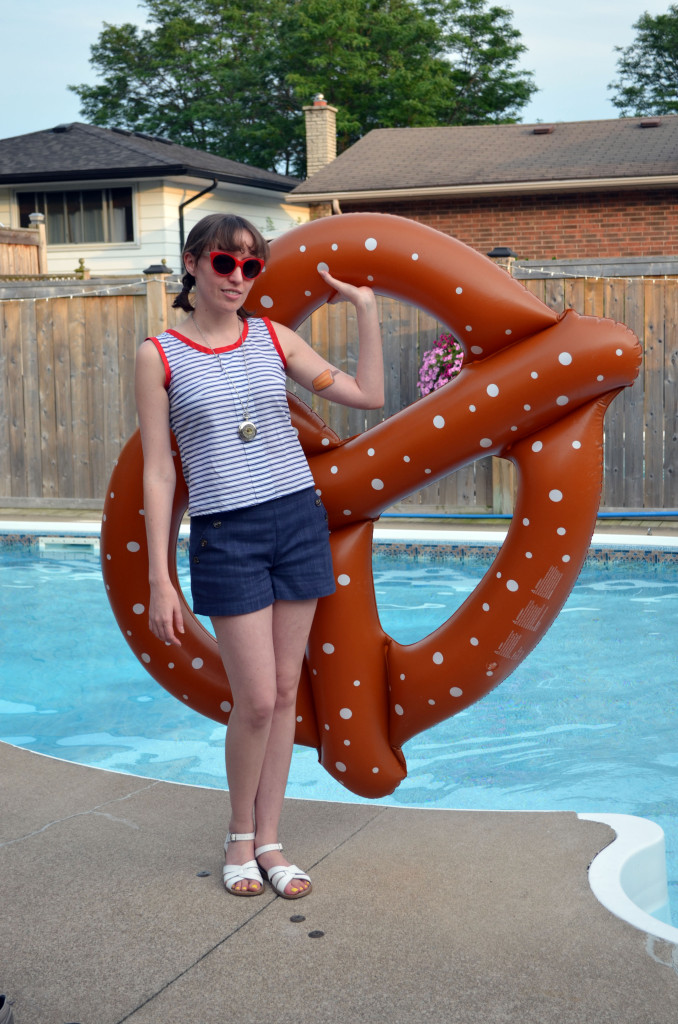 Top: made it myself from a free-download Colette Pattern | Shorts: ModCloth
Shoes: ModCloth | Sunglasses: The Bay | Necklace: ModCloth