I've never really been into jewellery – costume or real. When new friends see my collection for the first time they are bewildered by the modesty of it. My grandfather made a large wooden jewellery box for me when I was very young. I don't know if it was meant to house the collection of an adult woman but I haven't outgrown it in the quarter-century that I've owned it. It sits proudly on a shelf in the walk-in closet I share with my husband, a small, up-side-down wooden 'W' carefully nailed to the front, not yet half-filled. Most of the pieces it contains are roughly the same age as the box itself.
I was a tom-boy growing up and inherited a nickle (and stainless steel) allergy that has snaked its way through the female line of my family for as long as anyone can remember so I've only purchased two or three pieces for myself over the course of my life, the rest were gifts. I can wear gold jewellery, but only have a few pieces – family heirlooms and gifts from my husband mostly – to my name. It seems overpriced anyway, at least in the on-brand, mall chain-stores, and I've always worried about the ethics of how it is produced. Etsy has some truly beautiful fine jewellery, but at this point, I kind of like my uncommonly accessory-light style.
It sure makes travelling easier. I've never lost an earring in a hotel bathroom or scratched a ring while stacking wood. I don't have a travel jewellery case, I don't worry about wear to hide my valuables when I take them off and I've never used a hotel safe – is there a fee for using one? I don't even know.
My simple white gold wedding band is the only jewellery I wear most days.
Top ModCloth (old)
Skirt Sophster-Toaster
Shoes Payless
Bag Bently (similar)
Binoculars family heirloom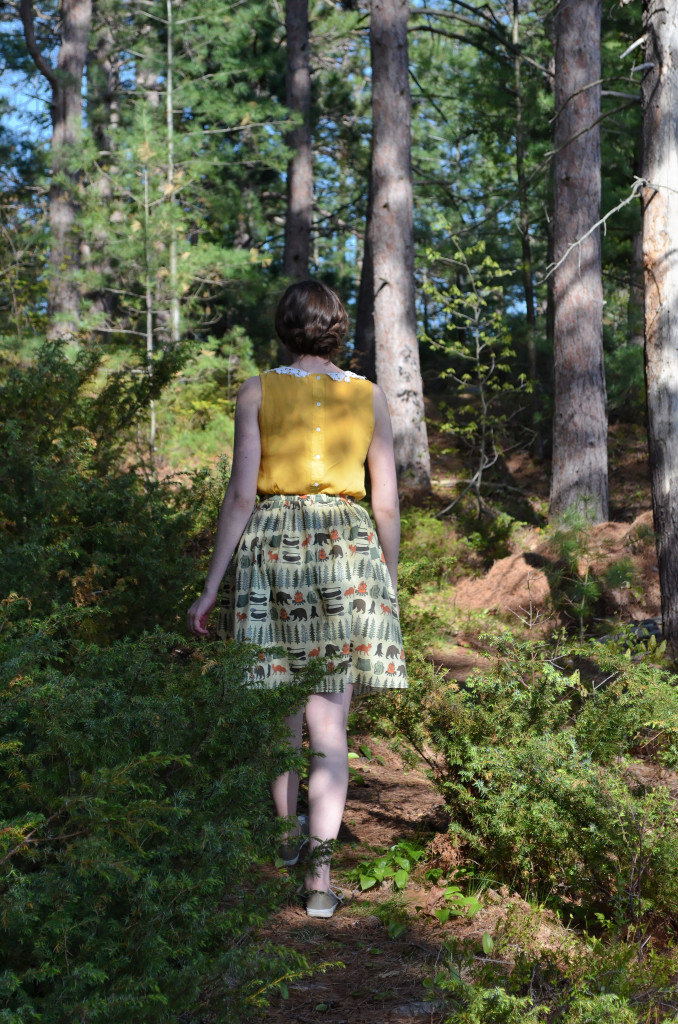 I look at a woman perfectly pulling off a statement necklace with envy and intrigue, but every time I try to wear an adult amount of accessories, I just think it looks weird and wrong on me. My mom says my tastes are simple and boring but I love the look of bare skin.