A delicious dinner time quiche, the flavours blend nicely and the skim milk keeps the meal from becoming too rich. Cooking the tomatoes beforehand reduces their moisture, making for a crispier crust.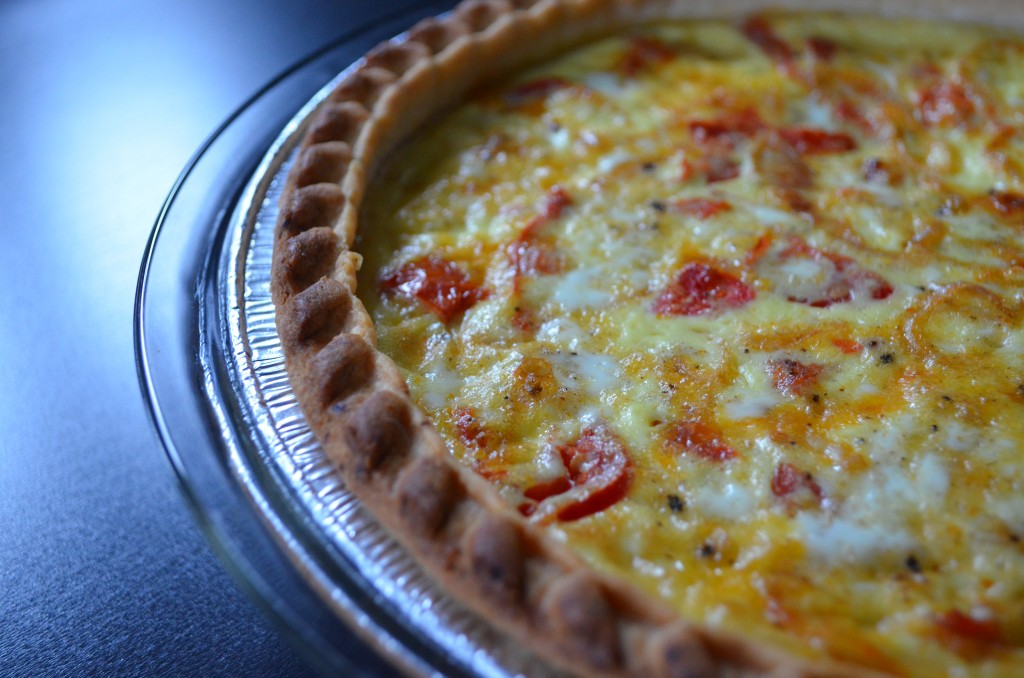 Ingredients:
Premade / frozen pie shell           1
Skim milk                                         1 cup
Eggs                                                    3
Salt                                                     ¼ tsp
Black pepper                                    ¼ tsp
Nutmeg                                            1/8 tsp
Bacon                                                 3 rashers
Juliet tomatoes                               4
Shallot                                               1
Cheddar cheese, shredded         ¼ cup
Procedure:
Beat milk, eggs, salt, pepper and nutmeg together in a measuring cup, cover and place in the fridge for a minimum of four hours.
Preheat oven to 375˚F.
Cook bacon, reserve 1 tbsp of bacon grease. Rip bacon into bit-size pieces.
Slice shallot and cook in bacon grease over medium-low heat until it just starts to turn translucent, about five minutes.
Slice tomatoes and add to pan with shallots, cook until soft.
Fill blind baked / frozen pie shell with bacon, tomatoes, shallot and cheese. Slowly pour egg mixture over top.
Cook for 35 minutes, or until the tooth pick test comes back clean.
Let cool 10 minutes before serving.