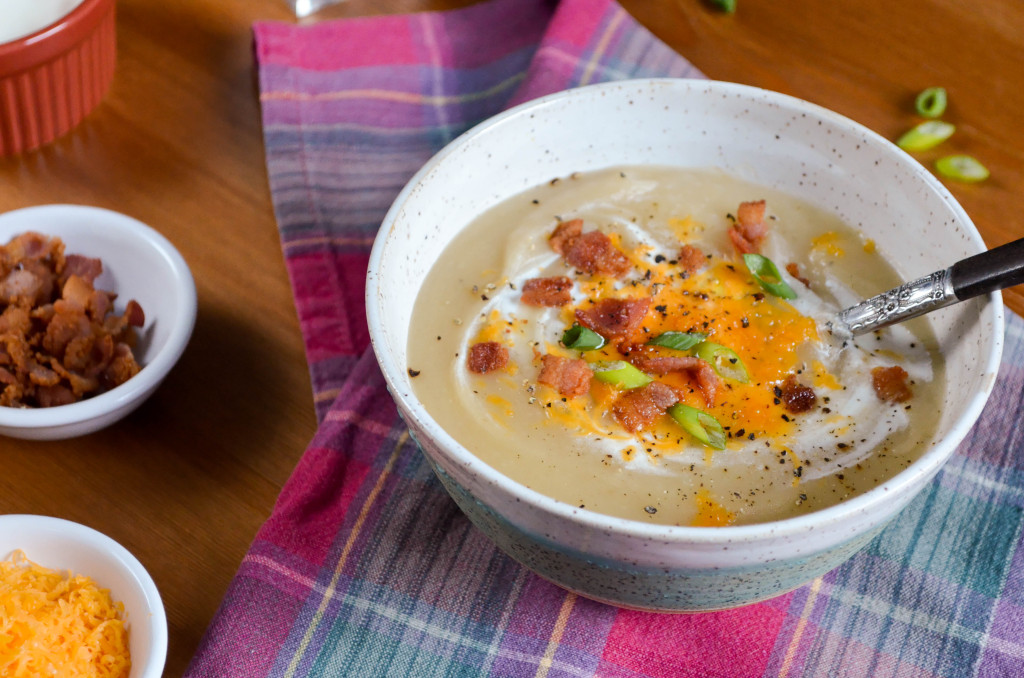 I started experimenting with this simple potato soup a few years ago. This version of the recipe was first developed at the cottage and quickly became a favourite among my friends. I love making it for a large group and serving it, still in the pot, with lots of little bowls of garnishes surrounding it so everyone can have fun customizing their own bowls.
The soup is quite simple and comes together rather quickly. The potatoes can be baked several hours ahead and left to cool until you are ready to assemble the rest of the ingredients.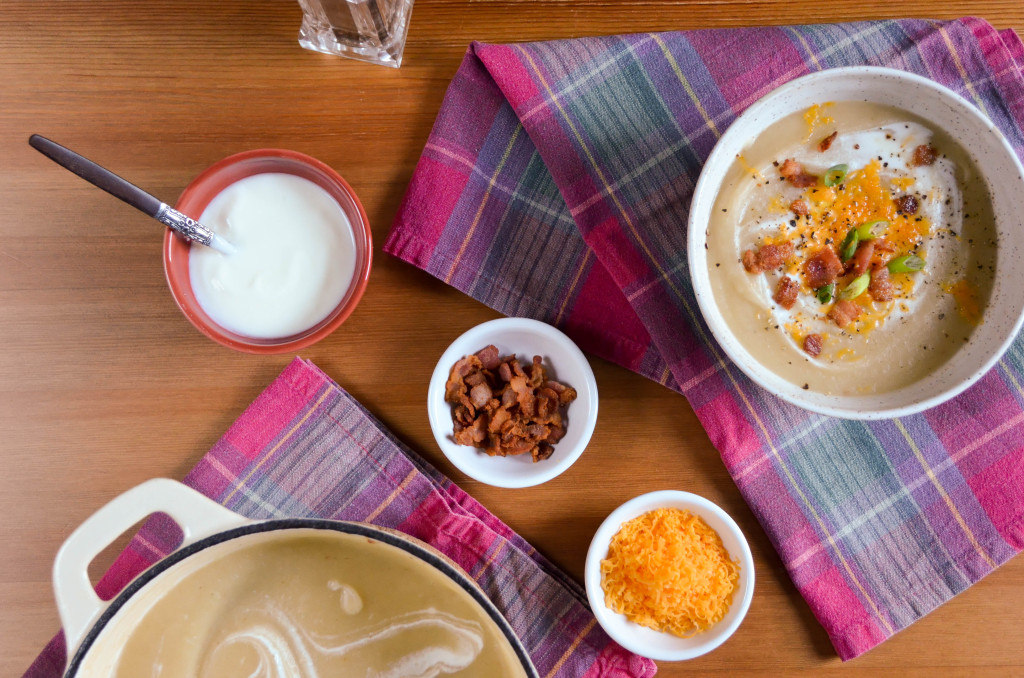 Ingredients
2 rashers of high quality bacon
1 medium onion, chopped
5 cups russet potatoes, baked, peeled and cubed (about 5 small to medium potatoes)
3 cups low-sodium chicken broth, or enough to cover
1 cup milk
3 tbsp plain yogourt
salt and pepper to taste
For the Garnish
plain yogourt
cheddar cheese, grated
green onion
Method
Things happen quite quickly, so you'll want to have all of your ingredients ready before you get started.
Preheat the oven to 400°F. Wash your potatoes and pierce them a few times with a fork. Place them directly on the oven rack (there's no need to season the skins because we will be peeling them) and bake for 40 – 60 minutes, or until tender. Let cool.
Slice bacon into garnish size pieces and place in a heavy bottom pot over medium heat. Cook until crispy then remove the bacon to a paper towel and set aside. Leave the bacon drippings in the pot.
Add the chopped onion and cook, stirring often, until soft.
Peel and chunk up the baked potatoes. They are easy enough to peel with your fingers – if they have cooled – but you can use a knife, if you like. Add them to the pot with the chicken broth and bring to a simmer.
Once you've reached a simmer, remove the pot from the heat, add the milk and sour cream then blend until smooth.
Heat through and season to taste with salt and pepper.
Serve with plenty of garnishes. I like classic baked potato garnishes like sour cream/ yogourt, cheddar, bacon and green onion but you can use anything you would normally put on top of a regular baked potato!
Serves 4 – 6 as a meal.
All photos by me.