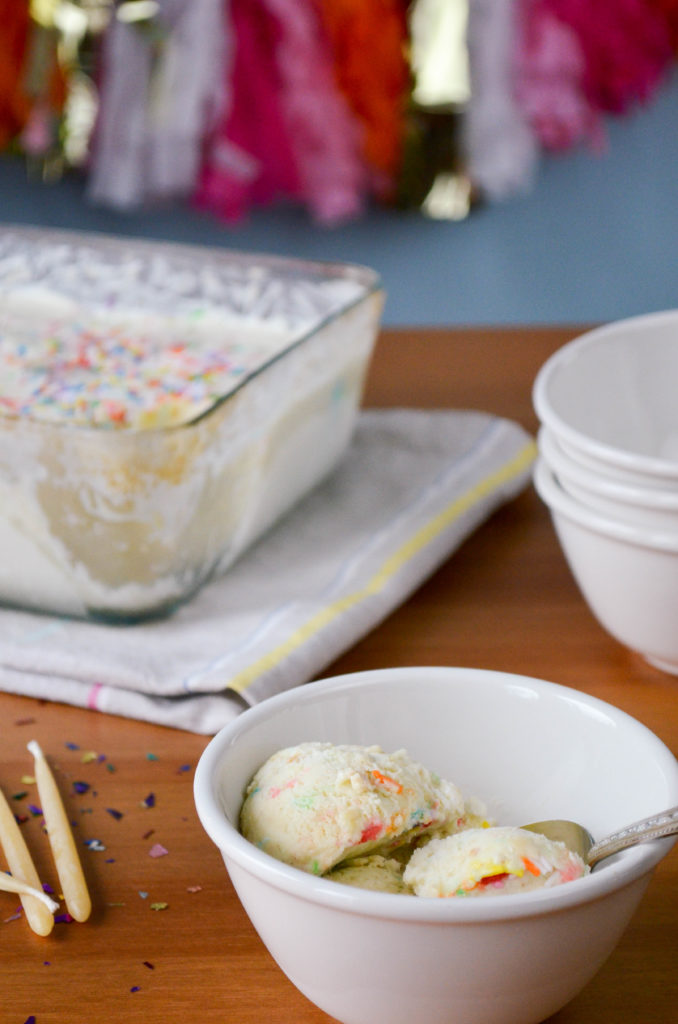 My best friend and I recently had a disagreement about whether cake and ice cream were best or worst served together. I said I always dreaded cake and ice cream time at birthday parties when I was growing up because I hated having them on the same plate but was too shy to ask to have them one at a time. Something about cold, soggy cake and crumb-filled ice cream eaten with a fork just filled me with a sorrow I have yet to recover from. He said all of those things were amazing and the best part of childhood. We absolutely could not find common ground on the topic. With his birthday coming up this weekend, I decided to make him something special: birthday cake ice cream with the cake crumbs stirred right in.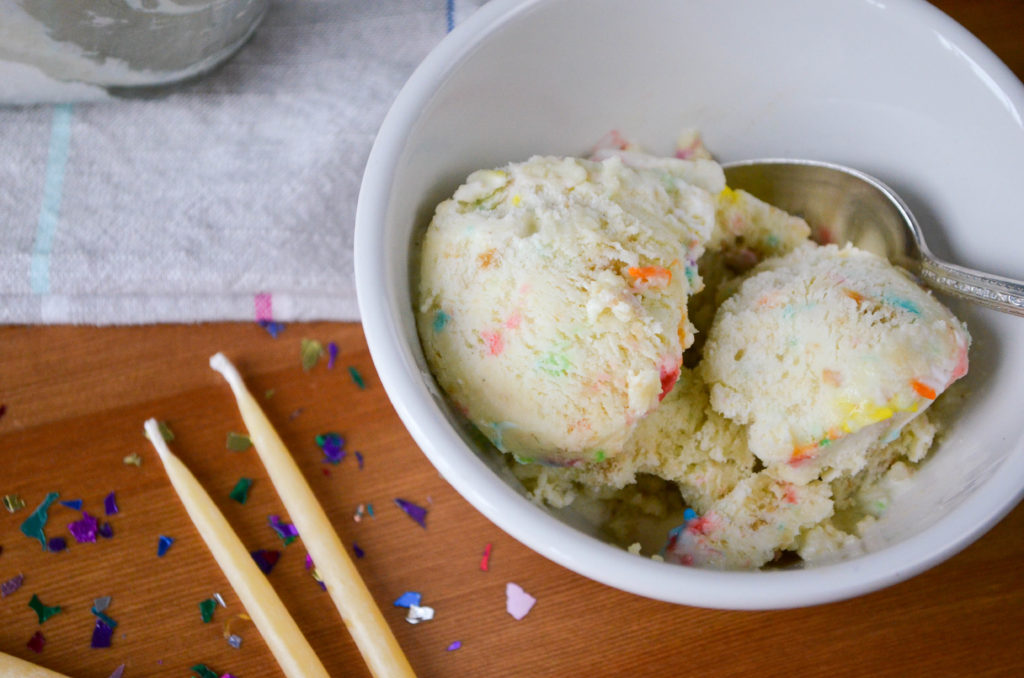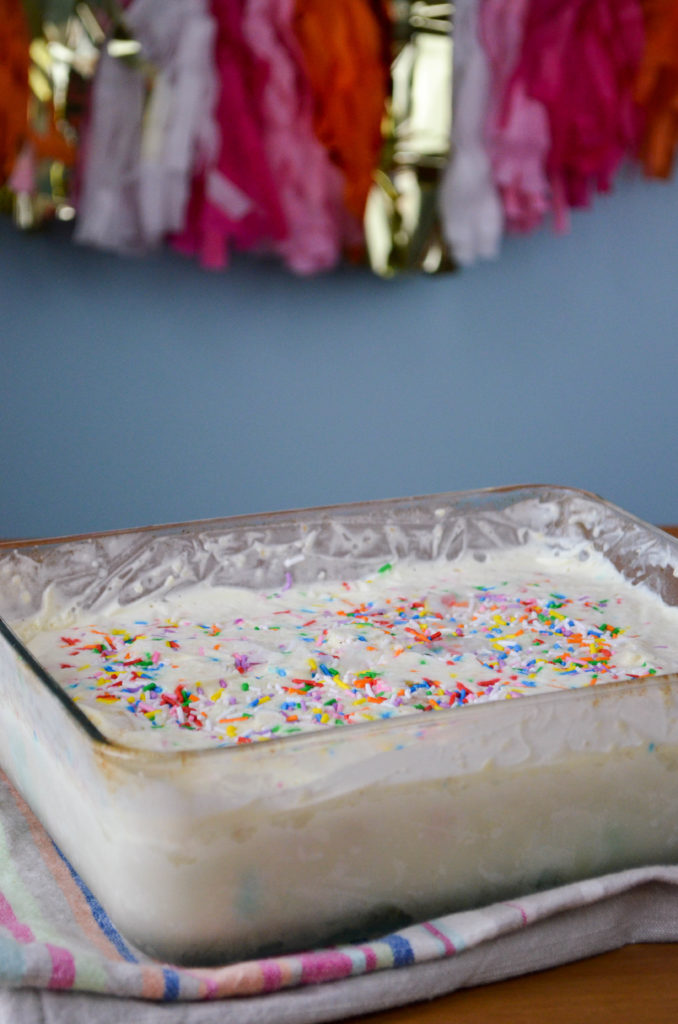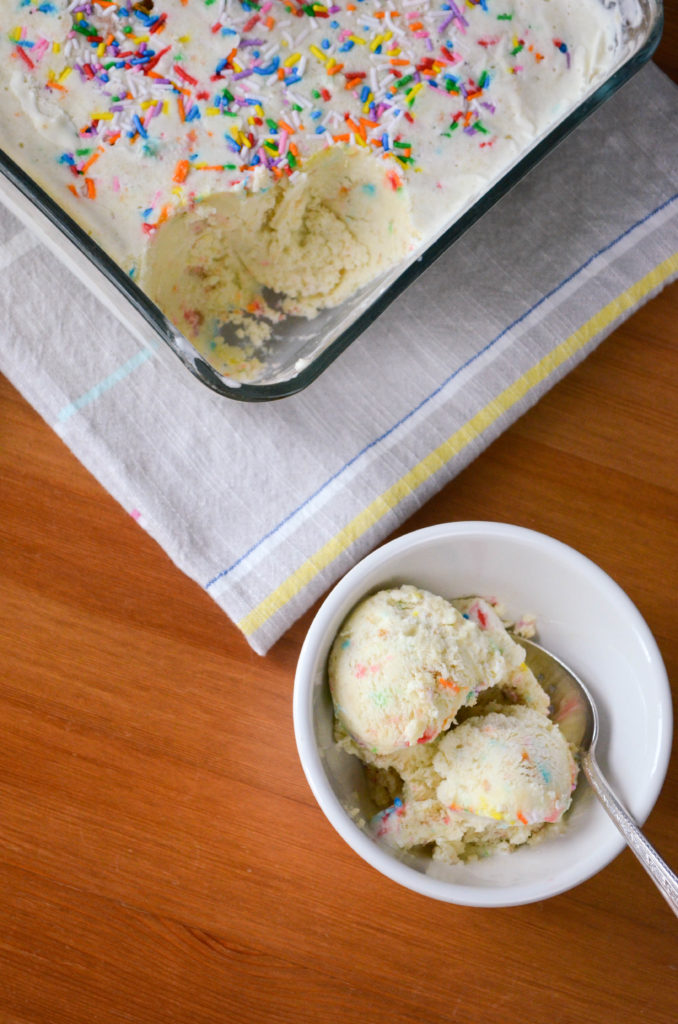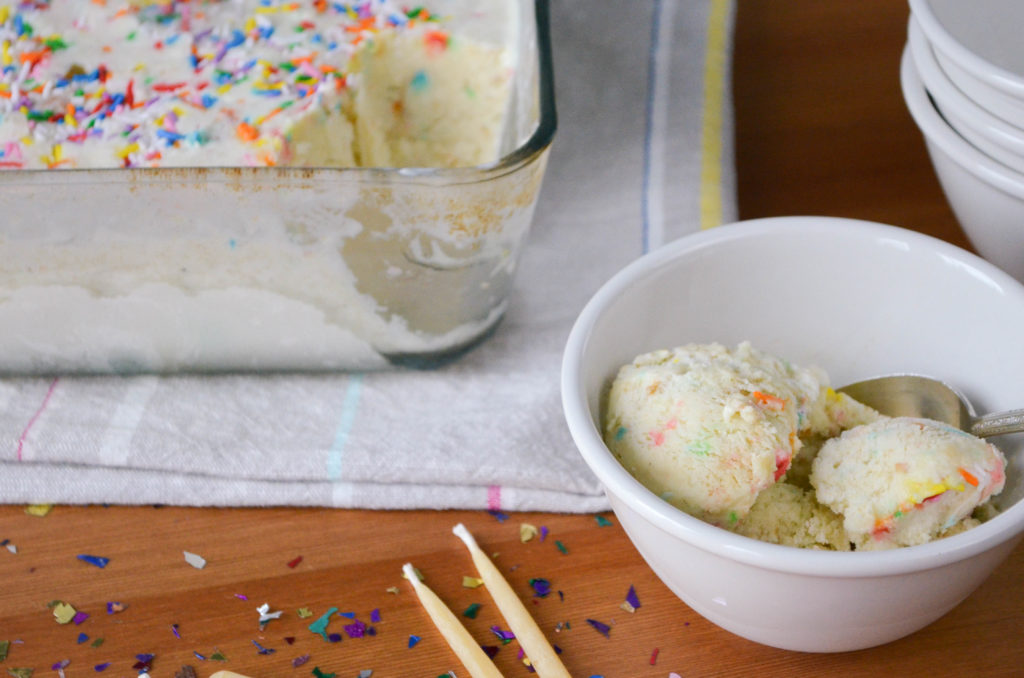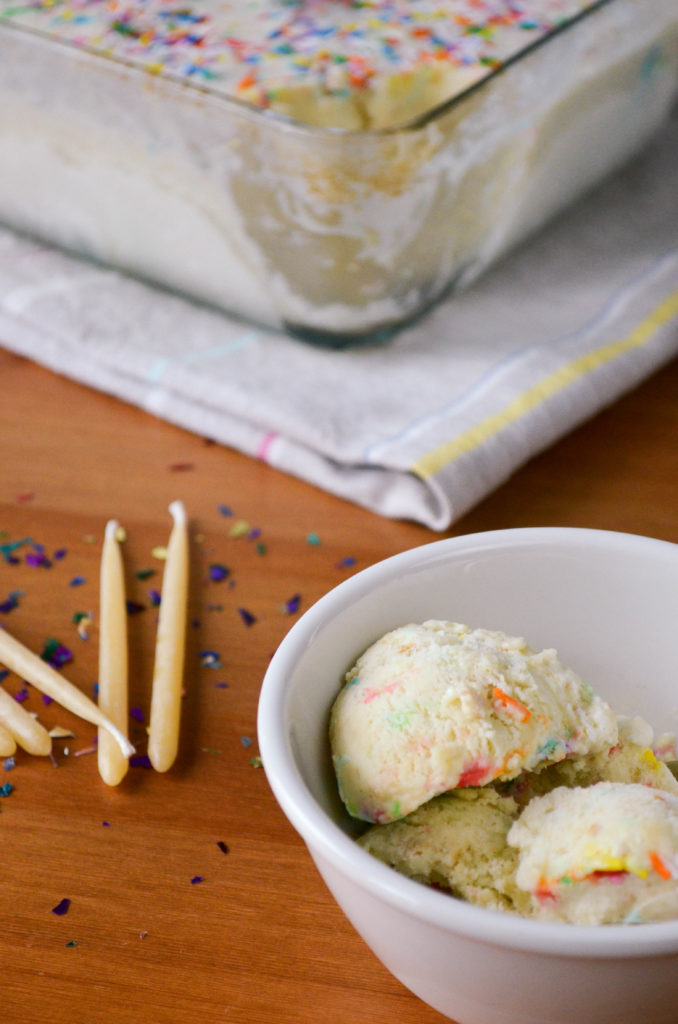 Ingredients
1 box of rainbow chip cake mix

(+ 1 cup water)
(+ ½ cup vegetable oil)
(+ 2 eggs)

1½ cups whole milk
¾ cup sugar
1/8 tsp salt
3 large egg yolks
2 cups heavy cream
1 tbsp vanilla paste or extract
1 handful of rainbow sprinkles
Method
Prepare and bake the rainbow chip cake in a 13×9 pan, according to package instructions.
Meanwhile, bring the whole milk, sugar and salt to a simmer over medium-low heat. Stir until sugar is dissolved.
Beat the egg yolks lightly in a bowl.
Temper the eggs by slowly stirring a ½ cup of the warm milk mixture into them, beating constantly, then stirring this egg mixture into the milk mixture.
Cook over low heat, stirring often, until this mixture starts to thicken and reaches a temperature of 175°F. You've made custard!
Strain into a small, heat-safe bowl to catch any lumps of egg yolk that didn't temper properly and chill in the fridge until cold.
Once cold, stir in the heavy cream and vanilla and churn in an ice cream maker.
While the ice cream is churning, crumble half of the cake into bite-sized chunks.
Place the cake crumbs and fully churned ice cream into a large storage container with half of the sprinkles and fold everything together. Sprinkle remaining sprinkles on top, lightly press a sheet of cling wrap down onto the surface of the ice cream, place the lid on the container and freeze overnight.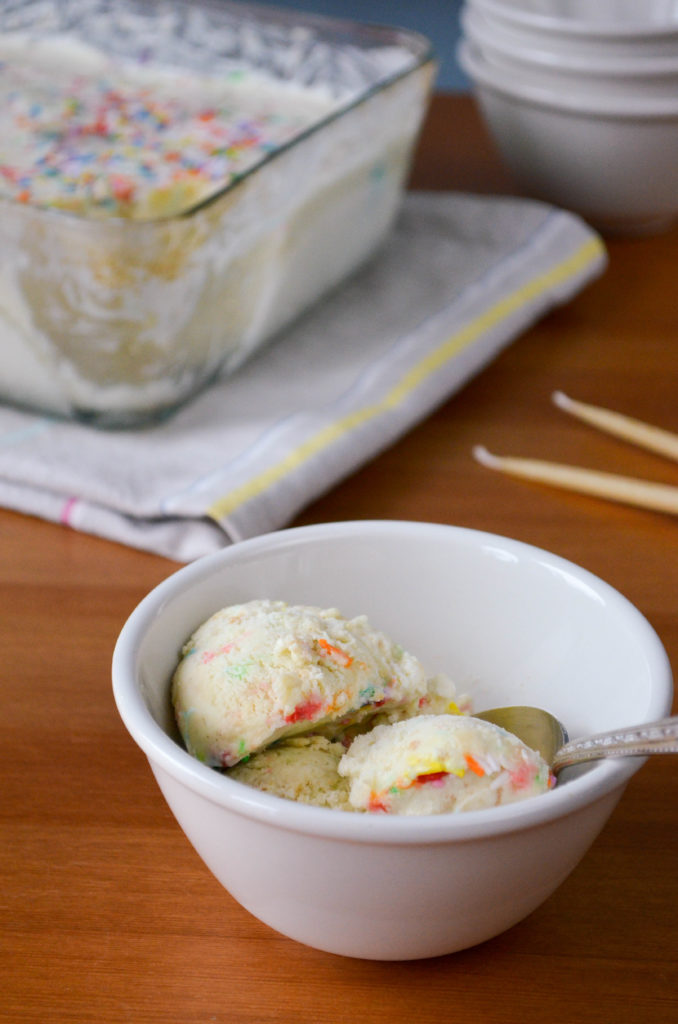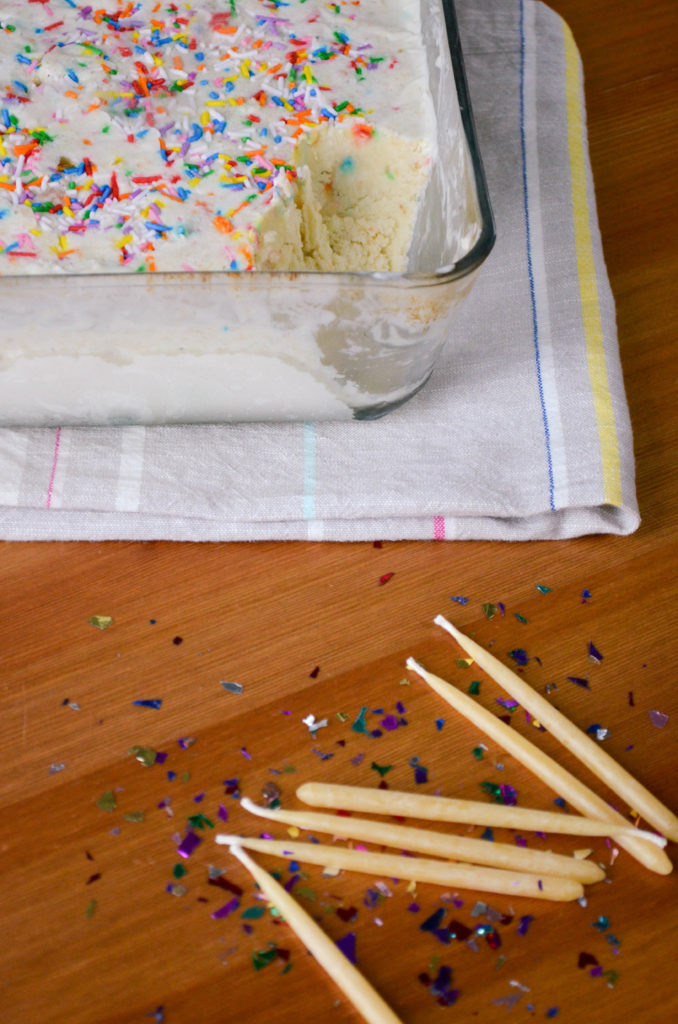 All photos by me.